The Planning and Zoning Commission Monday night delayed decision on an application to extend a special permit to allow the establishment of a 120-bed halfway house for former male offenders by Community Solutions, Inc. www.csi-online.org. The location is at Norman and Railroad Avenue, and numerous residents in the West End and South End have expressed opposition. Former offenders require transitional housing, they say, but why must these institutions that serve the region always be placed in Bridgeport?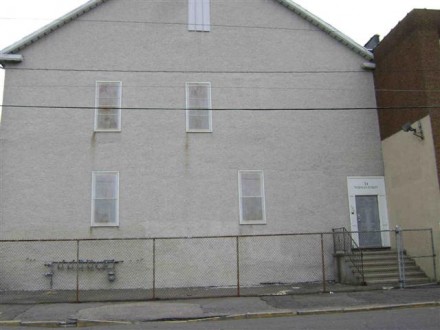 A legal notice in the Connecticut Post created confusion over just what action the commission would take up. The commission was being asked to extend application approval for one year so the project could be finalized. The legal notice called for site and coastal plan reviews.
Chairman Mel Reilly announced the public could speak about any aspect of the proposal if the presentation moved ahead based on the legal notice language. Attorney Chuck Willinger, a land use specialist on behalf of the applicant, requested the delay. Concerned about public reaction, he had asked that public input be restricted to extension of the permit. Councilman Bob "Troll" Walsh briefly addressed the commission before he was cut off by Reilly. Walsh claimed the city's master plan does not encourage this kind of development, arguing that the use is another example of the city absorbing a regional burden. Based on Willinger's request the tabled application will likely be taken up at the next commission meeting. About 25 city residents showed up for the hearing.
The controlling property interests for the proposed halfway house facility include Nancy DiNardo, Democratic State Party chair and her brother, developer Sal DiNardo, according to city land records and state business filings. The property at 34 Norman Street, more than 30,000 square feet, appears to be a vacant factory. The annual tax bill is $18,407 and taxes are current based on the July payment, according to the Tax Collector's Office. Two other affiliated properties 828 Railroad Avenue and 48 Norman Street are current based on July tax payments. Properties would be considered delinquent if the January payments were not received by close of business day Monday. The tax office, however, has not yet registered all due payments so it is possible the payments have been submitted pending processing.
Frank Borres, chairman of the West Side Neighborhood Revitalization Zone and member of the Citywide NRZ Leadership committee, weighs in with his opposition to the proposal. From Borres:
The West Side NRZ met on the issue of the P and Z application for the 120 bed institution planned for Norman and Railroad Avenue. We were unanimous in our opposition to it. Due to Bridgeport's overwhelming representation of transitional housing and the lack of participation by our neighboring towns we felt that the application was discriminating to our mostly minority community. We see it as a civil rights issue. It would be an undue burden to Bridgeport taxpayers and would negatively affect the city's ability to direct our economic development initiatives. We don't see the hardship on the applicant and advise the P and Z to deny the application.

At this time the federal and state governments which are making funds like this available to non-profits should demand an assessment of where these facilities are located. If that were done and the groups did a better job of locating facilities region wide and the responsibility is spread evenly and justly to all communities then we could reconsider but currently it appears this group and many others have targeted urban areas state and nation wide to locate transitional facilities. We believe the sponsoring groups have a noble cause and can do a much better job at evenly distributing their facilities. Of course reality is if Bridgeport responds like our neighbors these organizations would be forced to go back to the government funders and demand mandates to suburban and rural communities.

Until then we must oppose institutions like this which provide an undue burden to minority and urban communities and their taxpayers who end up paying for services for years to come.
From Democratic mayoral candidate John Gomes:
Statement of John Gomes Calling on P&Z to Reject an Extension of Special Permit for 34 Norman Street

Members of the P and Z Commission:

I urge you to reject the extension of a special permit that would allow yet another Department of Corrections facility to be sited in Bridgeport.

1. There is already an overwhelming burden borne by the property tax payers in Bridgeport and if another property is taken off the rolls for use by a non-profit. This makes an already bad situation worse. Do not take this property off.

2. The residents of this area were not involved and were not consulted about this proposed site. Tonight it is apparent that they had to leave their homes and perhaps their job site to come here to tell you face to face not to approve this extension.

3. This facility is adjacent to a ball field use by the children in the neighborhood. They are put at risk. There is no other way to say it.

4. Approval of a special permit extension is not to the best interest of our citizens as it is to the best interest of a favored few … as usual …

5. Finally, how binding and legal can your decisions be if everyone has expired terms except for one commissioner.