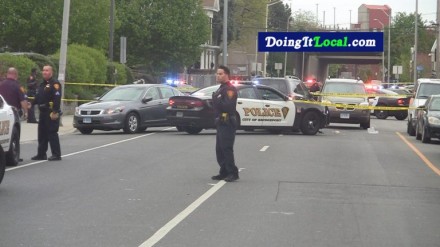 Update here. A teen is dead, another male wounded and three officers suffered injuries following a police-involved shooting Tuesday afternoon. State law enforcement, as is protocol, has taken over the investigation. "Relatives have identified the dead teen as 16-year-old Jayson Negron, of Bridgeport. His passenger, 21-year-old Julian Fyffe, the grandson of a decorated city police officer, was shot in the shoulder and is expected to make a full recovery."

Two reports follow, first from Doing It Local and then CT Post:
Police attempted to pull over stolen car on Laurel Avenue with two occupants inside. The car sped towards Park Avenue. Another police car was responding coming from Washington Avenue and then the stolen vehicle turned into the Walgreen's parking lot at 1000 Park Avenue. The vehicle then turned left onto Fairfield Avenue the wrong way when it struck a car. According to detectives the stolen vehicle rammed two police officers. The officer(s) (unknown if it was both or just one) opened fire into the windshield of the car. The driver died of his injuries and the passenger was shot with non-life threatening injuries. One officer was transported by police car to St. Vincent's Hospital. Detectives said the officers received non-life threatening injuries.

Later in the evening a group from New Haven's Black Lives Matter Chapter came to the Bridgeport Police Station on Congress Street to protest. When there was no audience there they moved the protest to Park Avenue and Fairfield Avenue. They remained there past 1am. State Police earlier called for K-9 from across the state to assemble at Troop G in the event of protest. At 2:10am they reported on the statewide hotline to other police departments that the situation had calmed down.
More here.
CT Post coverage:
"The identity of the operator is pending positive identification," a State Police spokesman Sgt. Eric Haglund said in a statement Wednesday. "The identities of the Bridgeport Police Officers are being withheld at this time."

The chase started around 5:00 p.m. after Bridgeport Police officers tried to stop a car that had been reported stolen, according to State Police. According to the account, the chase ended on Fairfield Avenue with the car stopping.

"As the Bridgeport officers approached, the operator of the stolen vehicle accelerated in reverse and struck at least one (officer)," Haglund said. "As a result, a second Bridgeport Police Officer fired at least one round from their duty weapon, striking both the operator and front seat passenger.
More here.