Riding a 100-strong ground operation, name recognition and the tax baggage of his chief opponents, 79-year-old Ed Gomes easily reclaimed the State Senate seat he lost in 2012 in a historic win running on the Connecticut Working Families Party line, over Democratic-endorsed Ricky DeJesus and petitioning candidate Ken Moales, a member of the Board of Education, both of whom at one time had the backing of Mayor Bill Finch's political operation.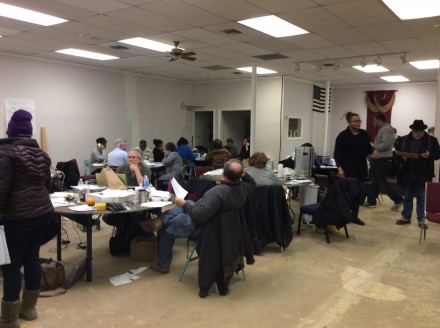 Unofficial returns, including absentee ballots, from elections officials in Bridgeport and Stratford show Ed Gomes 1485, Ricky DeJesus 791, Quentin Dreher 152, Hare 105, Ken Moales 509.
Gomes ran up strong machine-count pluralities across the city including the North End, Upper East Side, Hollow, Downtown and South End. DeJesus easily won the absentee ballot count but was swamped by Gomes' machine totals. Moales, the school board member and city minister, was not much of a factor. Republican Quentin Dreher and petitioning candidate Charles Hare ran far behind. Gomes crushed opponents in the Upper East Side Hooker precinct: Gomes 197, DeJesus 43, Moales 34.
The early morning voter turnout from record-low temperatures had many political operatives wondering about the final results. Democratic-endorsed DeJesus had won a controversial nomination at the party convention, following a tie vote with Gomes, broken by DeJesus' attorney Ed Farrrow, the convention chair. Days later it was revealed City Councilman DeJesus had massive back-tax issues owing the city more than $150,000 while Farrow had represented him in a contentious child-support case in which a warrant had been issued for DeJesus' arrest.
Meanwhile, Gomes won the endorsement of the Connecticut Working Families Party, providing him a place on the ballot. Mayor Bill Finch's political operation that had delivered the endorsement to DeJesus, reversed its support of DeJesus for Moales hoping to block a Gomes victory. Gomes is not a supporter of Finch's mayoralty. Moales also has his own back-tax issues involving a daycare center he operates under the umbrella of his church.
Gomes stitched together a coalition of Democratic progressives, reformers and Working Families Party operatives for an impressive citywide win, as well as the Stratford portion of Connecticut's 23 Senate District. Gomes lost his seat in 2012 to Andres Ayala, who was appointed the Commissioner of the State Department of Motor Vehicles by Governor Dan Malloy, creating a vacancy for a special election.
Statement from Working Families Party:
In a surprise upset, Working Families Party candidate Ed Gomes won the special election for the 23rd State Senate district. His historic win makes him the first State Legislative candidate to win appearing only on the Working Families Party line (as opposed to cross-endorsed) in the country.

"I've supported WFP since the beginning because they always are willing to take a risk in support of a candidate who fights for our progressive vision," said State Senator Ed Gomes. "I'm extremely proud to return to Hartford as the first-ever WFP legislator."

Ed Gomes and the Working Families Party ran a strong grassroots campaign focused on his experience and integrity. Campaign volunteers collected over 1,800 verified petition signatures in a week and a half to qualify for two-thirds of the Citizens' Election Program public funding grant, and spoke with thousands of voters to get them to the polls.

Lindsay Farrell, Executive Director of the Connecticut Working Families Party said: "Senator Gomes came from behind to win because voters know him as someone who will always fight for working families. He can't be bought and he can't be bossed."

One key issue in the race was the fight over public education. Gomes was a leading opponent of a plan to abolish the elected Board of Education and replace it with an appointed board controlled by political bosses that would be more amenable to the corporate education reform agenda.

Ed Gomes, a former State Senator, is widely respected as an advocate for working families, and helped lead fights to raise the minimum wage, guarantee paid sick days and raise taxes on the rich to protect school funding. Richard DeJesus, the endorsed Democrat was mired with personal and financial scandals. Petitioning candidate Kenneth Moales Jr. is a leading advocate for corporate education reform. When the major parties fail to represent the interests of real people, the Working Families Party has taken up the mantle. It was clear in this election that Working Families' message of an economy that works for everyone resonated with the voters.