Was Chris Taylor a resident of Fairfield, and continued to be for years after, when he was elected to the Bridgeport Board of Education in 2017? Connecticut law requires municipal elected officials to reside in the respective municipalities they represent.
The State Elections Enforcement Commission will meet in executive session on Wednesday to hear a recommendation from staff after a 16-month investigation on a complaint brought by former school board member Maria Pereira, now a city councilor, challenging Taylor's claimed residency.
The commission, in February, adopted "a Reason to Believe" finding that included authorizing six investigatory subpoenas for Verizon, Optimum, Southern Connecticut Gas, United Illuminating, Aquarion Water and Frontier Communications to determine Taylor's bona fide residency.
The commission has civil oversight of elections complaints that can include meting out fines. It's unclear if a finding against Taylor could lead to an invalidation of his election.
The original OIB story, April 24, 2019: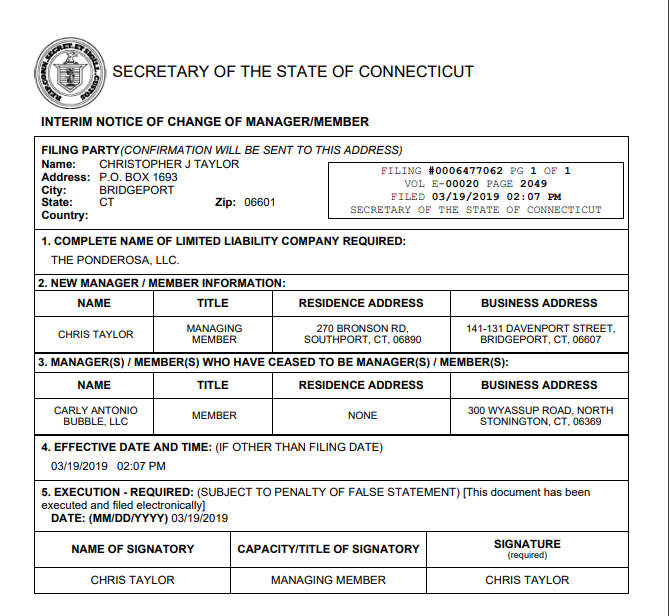 On March 19, 2019, Board of Education member Christopher J. Taylor filled out, under penalty of false statement, a management change for THE PONDEROSA, LLC, a limited liability company he created declaring his residence address 270 Bronson Road in the Southport section of Fairfield. Connecticut law requires municipal elected officials to reside in the respective municipalities they represent.
From state law:
Sec. 9-186. Electoral status of municipal officers and justices of the peace. Each elected municipal officer and each justice of the peace shall be an elector of the municipality in which he is elected, or in the case of a justice of the peace, nominated or appointed to office and, if for any reason he ceases to be an elector thereof, he shall thereupon cease to hold office therein and such office shall be deemed vacant.
The Bridgeport City Charter specifies that school board members "shall be electors of the city of Bridgeport."
A potent body of state paperwork signed by Taylor calls into question the legitimacy of his Bridgeport voting address in a complaint filed by his school board nemesis Maria Pereira with the State Elections Enforcement Commission that also challenges his veracity and standing to serve. See Pereira's complaint SEEC Taylor.
The paperwork includes Taylor, under signature, listing his address as 270 Bronson Road in Fairfield in a pro se defendant response to a bank foreclosure action filed in Superior Court. The paperwork is dated May 18, 2016. At the time Taylor was a registered voter in Bridgeport.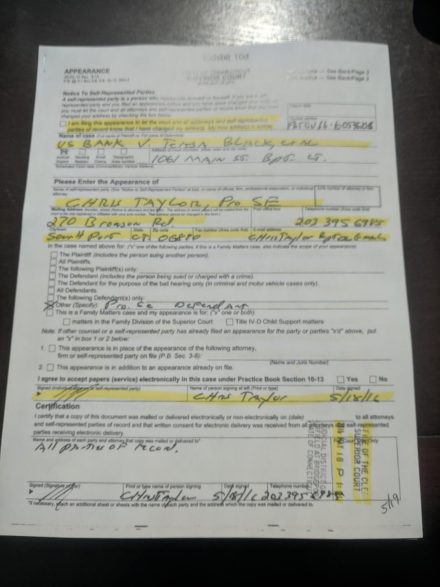 Pereira asserts in a statement to OIB, "Chris Taylor did not reside in Bridgeport when he ran for the Bridgeport Board of Education, did not reside in Bridgeport the night he took his oath, and does not reside in Bridgeport today. He is sitting in a Board of Education seat that belongs to Howard Gardner who lost to Chris Taylor, in a questionable recount, by 24 votes."
Taylor, a real estate developer and property manager, asserts the law is on his side when it comes to dual residency as long as he votes in one community. He maintains Bridgeport is his primary residence.
"I don't vote with her on the board so this is what you get from her," says Taylor about Pereira's complaint. "She tried to have me arrested by the Bridgeport Police Department and you saw how that went," he added regarding Pereira's claim in January that Taylor called her a "fat bitch" at the Aquaculture School and kicked the exit door into her.
In the last several years Taylor's voted in Bridgeport, listing his most recent elector address at the industrial-zoned 155 Davenport Street in the East End, the location of a recycling facility and adjacent office structure controlled by one of his affiliated limited liability companies while listing Fairfield as his residential address in numerous documents filed with the state. Residential is not allowed in this zone. In city permits Taylor signed and issued to the city for construction-related matters for 155 Davenport Street he checked off "non-residential" and checked off "industrial."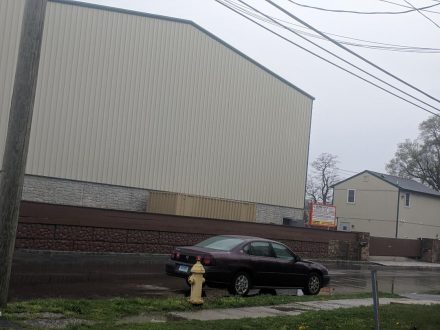 State law requires an elector be a bona fide resident of the community in which a ballot is cast.
The SEEC has civil authority over complaints that can include fines, but no force of law to remove elected officials. It can, however, refer allegations deemed criminal intent to state prosecutors. Removal of elected officials is the purview of the state legislature and state court.
Taylor's a large, gregarious man with a lighthearted needling wit who added levity to the campaign trail of 2015 as a petitioning candidate for mayor promising a bonanza of goodies to voters, if elected mayor, such as a free laptop, a credit card with $300 limit, free cable and free bicycle for each child and guardian.
He finished second to last in a seven-candidate field with 61 votes citywide. He spoke with deprecation about a sketchy, outlaw past, "I am Chris Taylor and I am not perfect, I have done some things in my life," a demeanor that has not escaped him in his business filings listing state prisons as addresses with remarkable names such as Wham-O, as well as capricious voting addresses and party affiliation changes.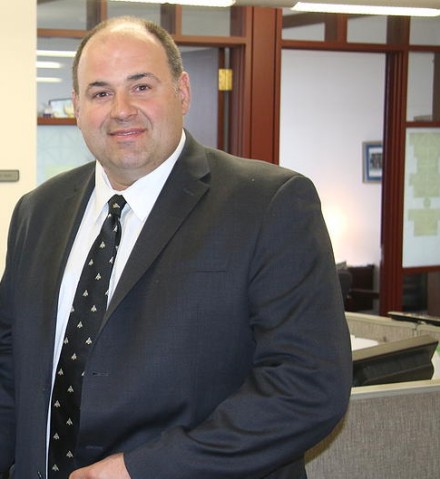 In 2017 Taylor was elected to the school board running as an endorsed Republican after he had switched his affiliation to the GOP on the cusp of the party nod. The school board operates under state-mandated minority-party representation. In Bridgeport's case three of six members cannot be party dominant. Taylor, in a recount by 24 votes, edged out Howard Gardner who ran on the Connecticut Working Families Party line.
Most recently, to illustrate Taylor's proclivity to embrace a Fairfield address in state reports, he created The Ponderosa, LLC on February 18, 2019, listing 300 Wyassup Road in North Stonington, CT as the principal office address. Real estate records list it as a vacant residential lot. On March 18 he switched the principal place of business to 141-131 Davenport Street in Bridgeport's East End.
Once again 270 Bronson Road is listed as his residence.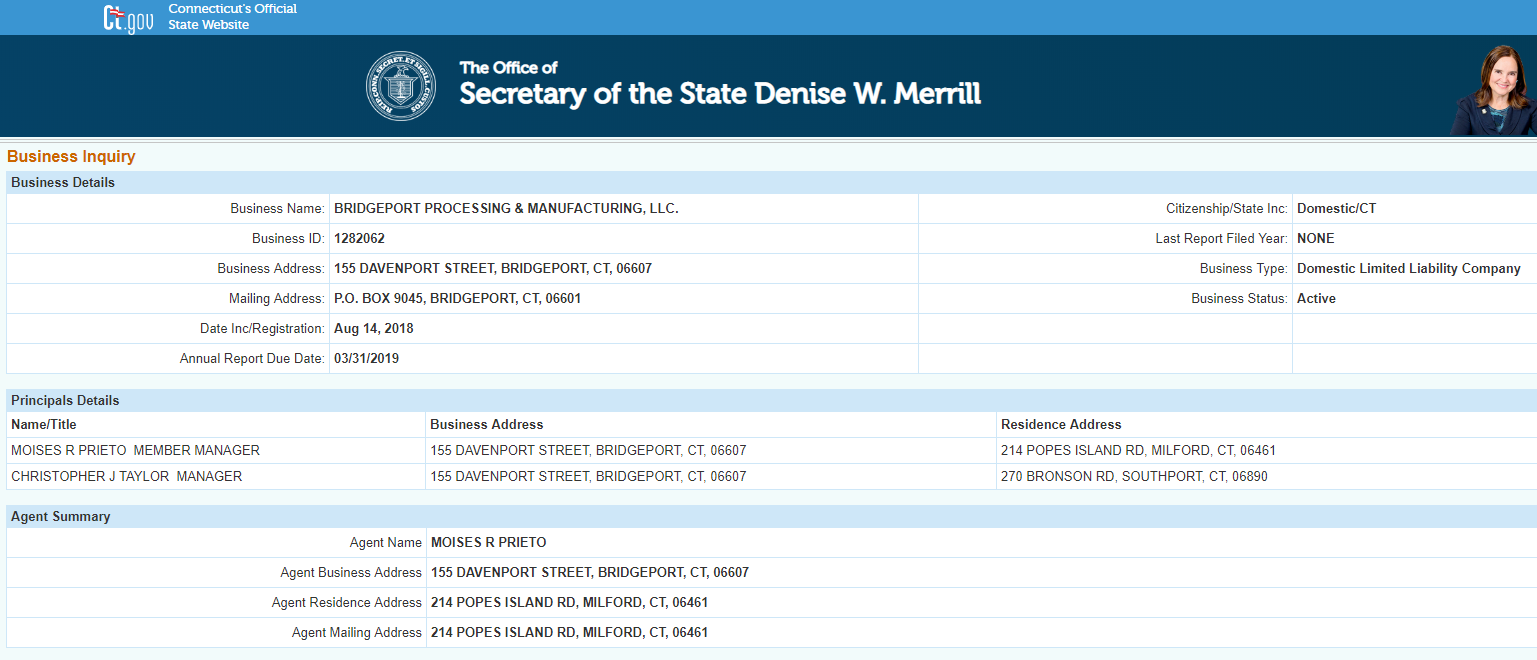 On August 14, 2018, a business filing with the Office of the Connecticut Secretary of the State created Bridgeport Processing & Manufacturing, LLC. Christopher J. Taylor is listed as a manager with the Fairfield residence address 270 Bronson Road. August 14, 2018 was also the day of the Republican Primary election for State Senate in Bridgeport. What did Taylor do? According to election record check off sheets he voted in person at Dunbar School, an East End precinct, in Bridgeport. His Bridgeport residence is listed as 155 Davenport Street.
In the Nov. 6 general election Taylor once again voted at Dunbar School while state business filings showed his residential address as 270 Bronson Road, Fairfield.
The business filing creates a residential conflict for Taylor. What's his bona fide address? From Connecticut law:
Each citizen of the United States who has attained the age of eighteen years, and who is a bona fide resident of the town to which the citizen applies for admission as an elector shall, on approval by the registrars of voters or the town clerk of the town of residence of such citizen, as prescribed by law, be an elector. … For the purposes of this section … a person shall be deemed to be a bona fide resident of the town to which the citizen applies for admission as an elector if such person's dwelling unit is located within the geographic boundaries of such town.
Bona fide residence is the domain of the State Elections Enforcement Commission.
The Commission has previously determined that an individual's bona fide residence is the place where that individual maintains a true, fixed, and principal home to which he or she, whenever transiently located, has a genuine intent to return.
A check of 155 Davenport Street shows clear industrial warehouses as well as a detached office building that from street glance resembles a small office facility, certainly not a place with a "genuine intent to return" unless for work.
Is this all about where people brush and floss their teeth? In part, yes. Your identified state driver's license address is another piece.
Pereira asserts in her complaint, backed by public record election documents, dizzying machinations prior to Taylor's election to the school board:
On July 18, 2017, Taylor requested the Bridgeport Registrar's Office change his voting address from 256 Charles Street #1 to 256 Charles Street 1 FL.
From Pereira's complaint:
On July 20, 2017, just two days later, and six days after the Certificate of Occupancy was issued for the 155 Davenport Street Scale House, DMV notified the Bridgeport Registrar to remove Chris Taylor from the voter rolls, specifically from 256 Charles Street. The Fairfield Registrar was directed to enroll Chris Taylor at 270 Bronson Road, Southport, CT. Just hours later, then Deputy Republican Registrar, Cisco Borres, re-added Chris Taylor to the Bridgeport Voter Rolls at 155 Davenport Street. This was the very night that Chris Taylor was nominated as a Republican candidate for the Bridgeport Board of Education.
Why wait for the last minute, right?
So what's Taylor's real Ponderosa?