An online petition started by education advocate JoAnn Kennedy is calling on Board of Education member Chris Taylor to resign following a January 28 confrontation with colleague Maria Pereira in which Pereira claims Taylor called her a "fat bitch" at the Aquaculture School and kicked the exit door into her.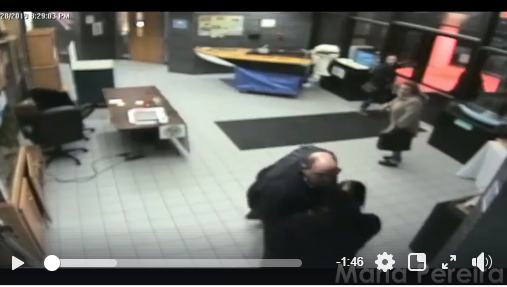 Pereira filed a complaint with the police department. School board members were discussing a transportation contract that involved disqualification of individuals with certain criminal backgrounds. Pereira says she sought to maintain a quorum for a vote on the matter and followed colleague Sybil Allen who had prepared to leave the meeting. Taylor left the meeting to avoid a quorum. As they exit the door a security video captures footage of the confrontation. There's no audio.
"It was an issue with the bus contract that my constituents would never go for," says Taylor. "My constituents are second-chance citizens. I left to exit the building to avoid a quorum. They can petition all they want. I am in an elected position with a four-year term."
As for Pereira's assertion that Taylor body shamed her, Taylor added "I don't have anything to say about it. It's sad that the board can't get along. All I did was get up and excuse myself. I didn't chase her. She chased after me."
In the video above Pereira details the occurrence with Taylor who was elected to the school board as a Republican in 2017.
An event, Woman Stand Together For Maria Pereira, will take place Thursday night at Murphy's Law on Fairfield Avenue Downtown.
Petition language:
On the evening of Monday, January 28, 2019; Chris Taylor physically and verbally assaulted his female colleague, Maria Pereira.

At a regularly scheduled Bridgeport Board of Education meeting, Maria Pereira was attempting to speak to colleague, Sybil Allen as she exited the building.

Chris Taylor; who has a repeated history of disrespectful and abusive behavior towards Bridgeport Board of Education colleagues, staff and Superintendent, repeatedly tried to block, Ms. Pereira from speaking with Ms. Allen.

He attempted to intimidate Ms. Pereira physically and verbally by calling her a "fat b*tch" and purposefully kicking the door closed as Ms. Pereira was exiting, which resulted in him physically assaulting Ms. Pereira.

Chris Taylor is approximately 6 feet 2 inches in height and weighs 350 lbs, which would be considered extremely intimidating to most women.

Previously he has told Ms. Pereira "shut the f*ck up, you fat b*tch" "f*ck you and your Dutch boy haircut" and "don't get your panties in a bunch".

Ms. Pereira has now filed two police reports regarding Chris Taylor's disrespectful, abusive and violent behavior.

Women in today's society can not and should not tolerate men abusing the power of their elected positions.

We are demanding: Chris Taylor immediately resign from the Bridgeport Board of Education and that the Bridgeport Police Department issue a warrant for the arrest of Chris Taylor; charging him with assault and harassment.

It is absolutely clear that Chris Taylor should not serve in any capacity that allows him to represent the interest of over 20,000 students, 30,000 parents, and 2,700 Bridgeport Public School employees.