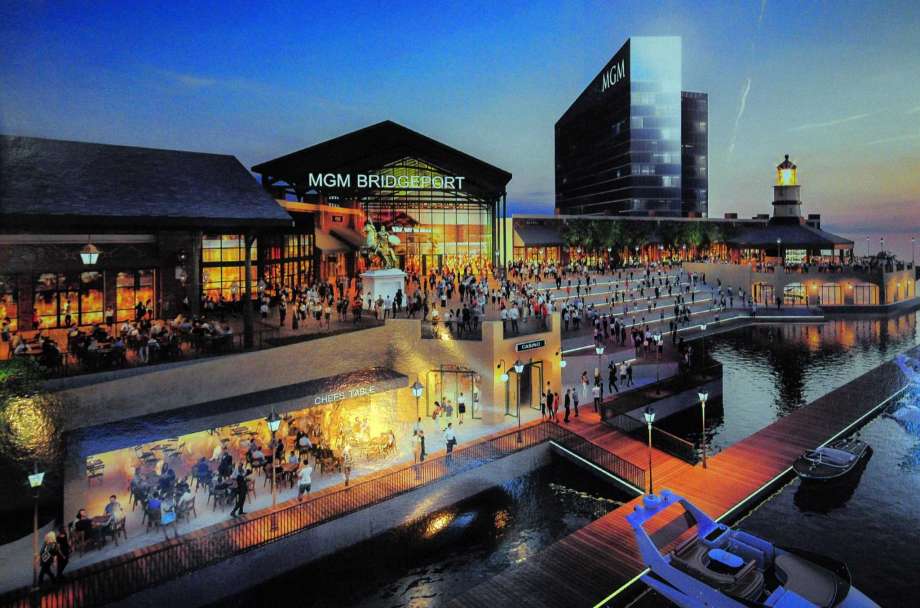 By a 77-73 margin on Friday the State House approved a bill that allows an open, competitive process for a commercial casino in Connecticut that includes a $675 million waterfront gaming destination proposed by MGM. The bill now goes on to the State Senate in the last days of the legislative session. Even if it does not come up for a vote, MGM executive Uri Clinton tells OIB MGM will return in January 2019 for the next session. The House vote tally here.

This bill is a roller-coaster work in progress with supporters of MGM advancing a case against the monopoly-driven compact signed by the state 25 years ago in which Connecticut receives 25 percent of the slot take in exchange for granting the tribal nations that operate Foxwoods and Mohegan Sun exclusivity. The gaming monopoly money to the state has diminished in recent years with a promise from MGM to more than cover the losses in an open contest. The tightness of the vote reflects the work of Bridgeport and New Haven legislative delegations in support of an open process pushing against the eastern Connecticut delegations sensitive to the tribal monopoly. And that's the rub. The tribal nations say we'll do something (small) in Bridgeport if you hand it over without a competitive process.
In the long haul, however, government gaming monopolies run out of gas. The tribal nations have done little to build good will in Bridgeport while MGM is making a case.
The MGM proposal calls for 7000 jobs, an $8 million annual host fee, in addition to annual property taxes projected at $15-20 million. The position of the tribal nations is this: we control a monopoly, if you want that to continue we will do something in Bridgeport (but nothing on the level of what MGM proposes). The MGM proposal also calls for a job training center in New Haven.
Bridgeport's State House delegation: Jack Hennessy, Steve Stafstrom, Chris Rosario, Ezequiel Santiago, Charlie Stallworth, Andre Baker.
Statement from Uri Clinton:
"As a result of the bi-partisan support of members of Connecticut's House of Representatives, the state is one step closer to adopting a best-in-class process for possible selection of a commercial casino operator. We look forward to continuing this discussion and supporting the legislation as it continues to move through the legislative process. And we look forward to the Senate and Governor concurring with the House, so that the competitive process can begin, companies including the Tribes can put forth their proposals, and the state can determine the deal that's best for Connecticut. While we anticipate that several Tribal and commercial gaming operators will ultimately participate in an open RFP process, MGM is committed to making sure that its proposal for a $675 million casino and entertainment facility in Bridgeport and a regional workforce development center in New Haven is world class. MGM is ready to make the same quality long-term investment in Connecticut as we have done and continue to do in other Northeastern gaming jurisdictions."
From State House delegation:
A bill, championed by the Bridgeport legislative delegation, that would permit and implement an open and competitive Request for Proposal process for private or tribal entities to bid for a qualification to develop, manage and operate a casino gaming facility in Connecticut passed the state House of Representatives Friday.

House Bill 5305, "An Act Concerning a Request for Proposals to Qualify an Entity to Develop a Casino Gaming Facility in the State," passed in a 77 to 73 vote. The bill now heads to the state Senate for further action.

Under this legislation, casino operators would be able to submit proposals to the state departments of Community Development and Consumer Protection. The legislation states that the bids would need to include an investment of at least $500 million and the creation of 2,000 jobs. H.B. 5305 would also require the casino operator to make a $5 million deposit for each application.

"The ability to expand casino gaming in Connecticut will help create countless opportunities for Connecticut. It's an opportunity to invest in the development of our state so our urban cores can be the economic drivers Connecticut needs to thrive. It's an opportunity to create thousands of new, good-paying job opportunities for our residents. It's an opportunity to increase revenue for the state, helping to steady our bottom line. And it's an opportunity to enhance foot traffic along the New Haven and Bridgeport corridor, helping to make Connecticut's two-largest cities tourist destinations," the Bridgeport House Delegation said.
Statement from Mayor Joe Ganim:
The bill opens the door to further commercial casino gaming in Connecticut, and could potentially bring 7,000 jobs to Bridgeport if a plan by Las Vegas based MGM to build a $675 Million resort casino on the Bridgeport waterfront becomes a reality.

"I am extremely proud of the determination, courage and leadership of the Bridgeport legislative delegation, who together with their partners from New Haven and the entire region stood up for substantial growth in jobs and revenue for all of Connecticut. This vote sends a strong signal to the business community that we support fair play in the marketplace, we support open competition and we are open for business. I want to thank lawmakers from all over the state of Connecticut and members of both parties who have the vision to bet on the Bridgeport-New Haven region. The fact is: if we do invest in real growth on the Bridgeport waterfront, we can attract tourists and investors from the New York City region–the largest metropolitan area in the country–and beyond! We want to maximize jobs and revenue and this bill gets us closer to doing that without harming with the investments we have already made in Eastern Connecticut with tribal gaming and all the benefits that provides to our state. This bill commits us to nothing and allows us to examine the very best way to move forward with gaming in Connecticut. This is a very exciting development for our state–with the potential for 7,000 jobs and $300 million in additional annual revenue for Connecticut at no cost to taxpayers. I urge our State Senate to pass this bill so our taxpayers can get the best deal in the future."