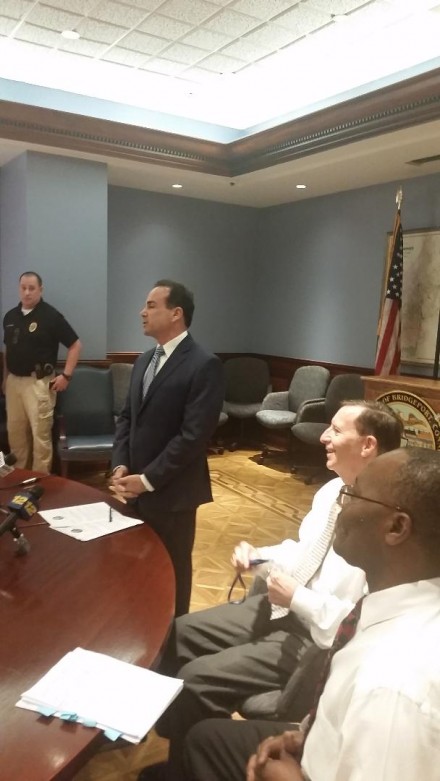 Addressing the media Friday afternoon, Mayor Joe Ganim announced the recently passed state budget, four months late, leaves a gaping $13 million hole in the municipal budget year that began July 1. Ganim also stressed that if city voters approve Tuesday's ballot question to fund city libraries it will further exacerbate municipal finances and lead to a tax increase.

The Facebook page Keep Our Libraries Open urges voters to support the Nov. 7 ballot question "Shall a one thirty hundredths (1.30) mill tax be levied to operate a free public library and reading room?"
Ganim said the library, as a department, is running a $2 million surplus. If the referendum question is approved it represents another $2 million that the city cannot afford, he said. Ganim called the effort led by library supporters and directors a "flawed process" that did not pass the transparency test.
Former City Councilman Joel "Speedy" Gonzalez, a harsh critic of the library question, attended the mayor's news conference. "This is horrible what they've done," he interjected during the mayor's news briefing, claiming it was surreptitiously done. Later he told OIB that library supporters are "raping democracy."
In 2009 city voters, against the wishes of the political establishment, voted to levy one mil to fund city libraries, an initiative pushed by the city's Library Board. The referendum question passed 2683 to 1455. Library supporters declare that the 2015 revaluation dropped the value of 1 mil that now requires 1.3 mils to finance the system. State Senators Marilyn Moore and Ed Gomes have lent their support for the Nov. 7 ballot question. Moore and Gomes did not attend the mayor's news briefing.
City bean counters say approval of the measure could impact other services and lead to a tax increase. The library budget adopted by the City Council for the current fiscal year is $5,713,859. Two years ago it was $6,829,089. Library supporters argue they need $1 million more to operate. Ganim and city finance officials say if the question passes it actually means $2 million more than what the library system currently operates under.
In this sleepy election cycle it looks ground zero for Tuesday's general will center on the library ballot question. The city's political establishment is ramping up an effort to stake pol workers in front of every city precinct urging a no vote because it will raise taxes.
State law allows voters to approve a levy to finance local libraries, language that Library Board President Jim O'Donnell and Sylvester Salcedo, both lawyers, took to court, following pushback by then-Mayor Bill Finch. Salcedo was then a board member. Only several dozen petition signatures are required to force the library referendum question.
City officials on Friday also had harsh words for the wording of the library question, including what they called a misleading reference to a "free public library." There's no free anything, they argue. It's coming out of taxpayer pockets.
As for the state budget recently passed by the legislature–and signed by Governor Dan Malloy–after months of back-and-forth meowing, the municipal budget approved by the city council in the spring was based on the state revenue projections advanced by Malloy's budget that received a cut.
Specifically, finance official cited these areas:
The governor had proposed a hospital tax to replace a payment in lieu of taxes that would have made the city budget whole. The hospital tax did not pass, as proposed by Malloy, creating a multi-million dollar city shortfall.
The state eliminated the Elderly Home ownership tax relief program leaving the city with a $542,000 burden, as well as the distressed municipality tax relief program with a negative impact of $548,000.
City finance officials and Ganim say they will be making an assessment of the city's fiscal picture to determine how they can close the $13 million gap.