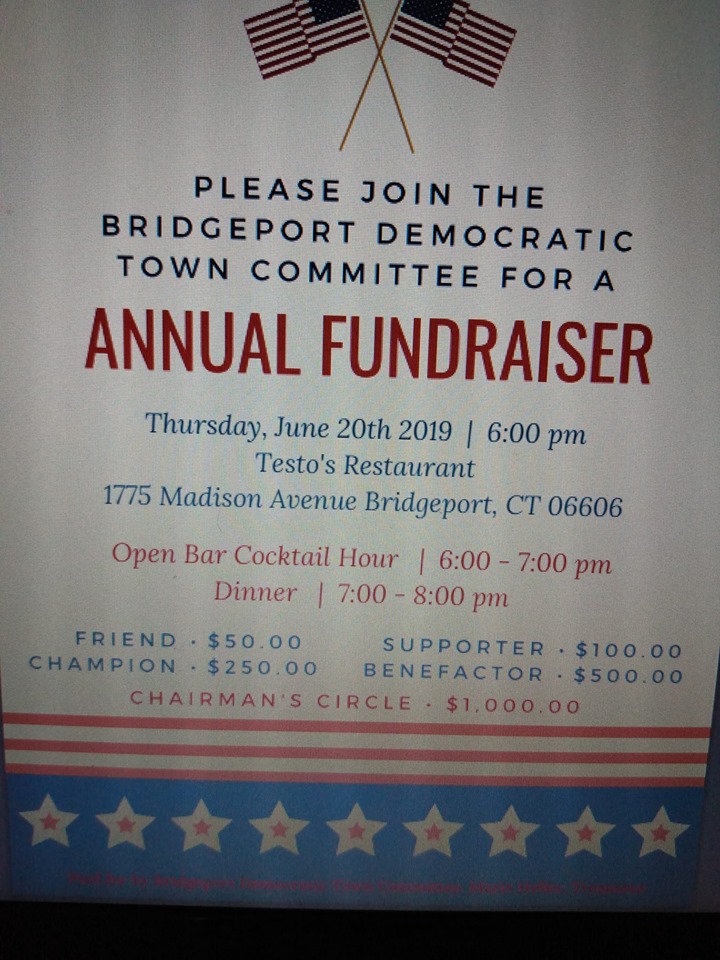 The Democratic Town Committee's Facebook page moderator Steven Auerbach has been encouraging attendance in the OIB comments section for Thursday's fundraiser at Testo's Restaurant, the epicenter of politics in Connecticut's most populous city.
Ah, such financial measurement choices, $50 for a "friend" donation, up to $1,000 to join the "Chairman's Circle." Now that would touch the pleasure center of Town Chairman Mario Testa. Mario wants to load up for this event to help finance the elections of party-endorsed candidates.
According to the latest report filed with the State Elections Enforcement Commission for the period ending March 31 the party treasury had $10,214.80 on hand.
The next reporting period ends June 30 so the contributions received on Thursday will be filed for public view in early July. The second quarter fundraising deadline also applies to mayoral candidates, a key measurement of fundraising strength.
Mayor Joe Ganim's next report is expected to show about $300,000 raised overall based on recent fundraising activity.
State Senator Marilyn Moore raised about $68,000, according to her first quarter report, a large chunk of that from residents of Greenwich and the Black Rock neighborhood of Bridgeport. Can she duplicate that number? The early money is always the easiest to raise when friends, neighbors, relatives and long-time supporters step up.
Moore is still weighing, publicly at least, whether to challenge Ganim in a Democratic primary or go straight to the general election as either a petitioning candidate or as the standard bearer of the Connecticut Working Families Party where she is well regarded because of her progressive credentials.
A September primary challenge would require her to secure roughly 2,400 validated signatures of Democratic electors in the city, a process that would begin in about five weeks during a two-week window the day following the party endorsement in July that will go to Ganim.
Moore's upcoming fundraising quarter may determine her strategy. Going straight to the general election allows her more time to raise the necessary funds to compete against a well-financed incumbent.
State Rep. Charlie Stallworth, also challenging Ganim, raised under $10,000 in his first quarter report, so he has a lot of work to do.