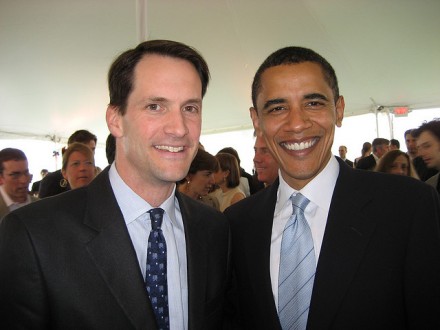 I stopped into Jim Himes' campaign headquarters in Bridgeport this afternoon to harass campaign workers. It's down to crunch time; in just five weeks we'll know if the first-term congressman receives another two-year contract from voters in Connecticut's 4th Congressional District that includes the state's largest city and heavy Republican suburbs.

What a difference a cycle makes. Two years ago a 50-year electoral tsunami hit Bridgeport led by Barack that lifted Himes over 20-year Republican incumbent Christopher Shays, the last serving New England member in the House of Representatives. Two years ago Republicans were pariahs. Now it's pretty good to be a Republican as crabby unaffiliated voters have grown weary of spending in Washington.
Himes hopes he can make the case that some of that spending was necessary to provide health care, stop the economic bleeding and save jobs. On a local level taking down the stuck-open Congress Street bridge, moolah for job training and adding cops from stimulus funding. In what appears to be a tight race, Republican Dan Debicella, who was raised in Bridgeport, is trying to frame Barack, House Speaker Nancy Pelosi and Himes as a three-headed monster picking taxpayer pockets. Himes is trying to frame himself as his own man, drifting from the president and Democratic leaders who want the Bush tax cuts to expire for higher wage earners. Himes represents arguably the wealthiest district in the country loaded with down-county Dems and unaffiliated voters making more than the $200K (individuals) and $250K (families) who could see the tax cut expiration at the end of the year.
Republicans want to glue Himes to Barack's hip. Is the president an asset or a drag? Do you bring him in for a campaign rally?
If you bring in Barack it's for two reasons, to raise campaign money and crank up a lethargic city vote Himes must have to win. Doesn't this play into the GOP hands, a presidential visit in the region infuriating anti-Washington sentiment?
Seems to me the folks who are going to punish Himes for supporting the president have already made up their mind. Himes needs a big Bridgeport push, one that's not likely to come without a presidential visit. Can the local party apparatus push the city turnout to 40 percent? I doubt it.
So how about a rally at the arena at Harbor Yard? If Barack wants to come, bring him in baby! What say you?
Speaking of Himes he has this media hit planned for Monday:
Himes, Finch to announce federal funding for Greater Bridgeport Transit Authority

BRIDGEPORT, CT— On Monday, October 4, Congressman Jim Himes (CT-4) and Bridgeport Mayor Bill Finch will announce a $1,167,945 grant award to the Greater Bridgeport Transit Authority (GBT) under the Federal Transit Administration's State of Good Repair Program. Funding will be used to repair and replace GBT's bus storage facility roof. This project is the first phase in a long term plan to increase the services offered by Greater Bridgeport Transit throughout Bridgeport and the surrounding region.

WHO: Congressman Jim Himes; Bridgeport Mayor Bill Finch; Greater Bridgeport Transit Board Chairperson Laurie Goodsell

WHERE: Bridgeport Bus Terminal, 710 Water Street, Bridgeport, CT, 06604

WHEN: Monday, October 4, 3:00 p.m.