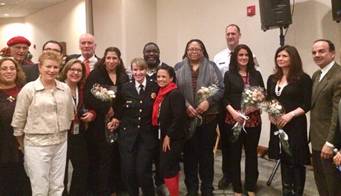 We don't often hear about them, but often they make significant advances to keep government business moving along. Last week, Mayor Joe Ganim announced seven recipients as city employees of the year at the annual government Christmas luncheon.

The following city employees received citations for city service.
— Earl Coleman, Epidemiological Investigator, Health Dept/Lead Unit, hired in 1998
— Bill Coleman, Deputy Director, OPED, hired in 2004
— Mariel Concepcion, Public Safety Supervisor, PD 911 dispatch center, hired in 1996
— Mary Otero, Payroll Manager, Finance, hired in 1998
— Yolanda Padilla, Special Projects Coordinator, Public Facilities, hired in 2005
— Shequilla Robertson, Supervisor in Print Shop, hired in 1993
— Ronald Rolfe, Fire Captain, hired in 1998.
"These seven were chosen as 2016 Employees of the Year because they consistently go above and beyond what is required of their job," wrote Ganim in an email to city employees. "They are team players, assist colleagues, are constantly thinking about ways to make things better for everyone and always have a smile and positive attitude. These awards will be an annual tradition under my administration. It's important that we take the time to recognize our hard-working employees."
The government employees were selected by a committee comprised of representatives from management, labor, Civil Service and past and present Total Quality Management (TQM) Teams that made selections independent of the mayor's office. TQM is a management approach that involves employees at all levels of government to identify and recommend areas for improvement.
Employee of the Year is an initiative of the Employee Morale TQM Team. They will be planning other events throughout the year to improve the working environment and boost employee morale. Its team members include Milta Feliciano, Tatiana Urena, Robert Miller, Nancy O'Donnell, Grisel Seda, Deborah Brelsford, Tyisha Toms, Deva Caviness and Valerie Sorrentino.