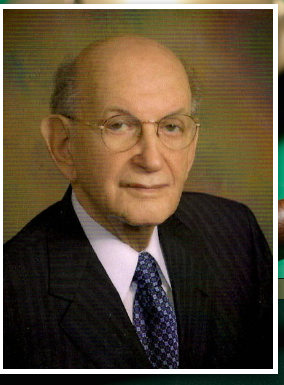 Sal DePiano was the offspring of the quintessential immigrant experience, his parents arriving here from Italy, settling on Bridgeport's East Side, Sal with the help of his wife putting himself through law school on an arduous commute, hanging a law shingle and eventually election to the Connecticut State Senate where he became a reluctant, defining shareholder in a historic contest that transformed politics in Connecticut's most populous city: the 1980 election of the first Black woman to the upper chamber, Margaret Morton.
Sal passed away on Thursday. He was 96.
Sal was a wise man gentleman, easy to talk to about the city's history that intrigued guys like me. He knew he was part of it but that primary race in 1980 was not nearly Sal's life in isolation. He accomplished so much on his own beyond the era's political zeitgeist be it law, helping people in need or working for decades in Bridgeport's municipal law office.
When we talked he had a fondness to share the music forever in his ears special to him, the Big Band era of his youth: Tommy Dorsey, Benny Goodman, Count Basie, Artie Shaw. Sal played the bass. And he played it part time during an era when Bridgeport was a magnet for the big time orchestras.
Occasionally Sal played with the big boys in Bridgeport, in more ways than one.
Politics came calling and Sal won a seat representing Connecticut's 23rd Senatorial covering mostly the central and eastern sides of the city during an era when the city was largely White.
In 1980, an incumbent senator, Sal was appointed tax attorney by Democratic Mayor John Mandanici, a sweet and sour political hurricane.
Local funeral home director Margaret Morton, then a state representative, believed she had a deal with Mandy to replace Sal in the state senate when he received the tax attorney appointment. Somewhere along the way the deal went out the window, and Margaret saw it as a double dip, two jobs at once. Margaret was among the most decent in city politics. She was honest, strong and her word was good. The fight was on.
In Margaret's words to me decades ago, "I felt I was a loyal Democrat. They had reneged on their promise that there would be no double-dipping. I wanted to make peace but they wanted to make war."
And it was a war that changed the face of city politics. Margaret, in her mid-fifties when she took on this battle, stitched together a young, liberal coalition–Black, White and Brown–that said screw the party establishment, a woman's place is in the senate, not the house.
For Margaret, this had nothing to do with Sal, it was all about the mayor reneging on a deal.
Margaret defeated Sal by a handful of votes.
Margaret's primary win did more than elevate her as a Black woman in the Connecticut State Senate. She opened the door for several Black candidates including Charlie Tisdale, a gifted political organizer who became the first Black in the city's history to win a major party mayoral nomination in 1983. In 1981, a young music teacher from East Side Middle School, Ernie Newton, became City Council President. Alvin Penn, Newton, Ed Gomes, Andres Ayala, Gomes again, Dennis Bradley and now Herron Gaston have occupied the seat since her reign.
Sal DePiano was an instructive leader during a transitional time in city politics.
Sal's memory via Abriola Parkview Funeral Home:
It is with great sadness that the family of Salvatore C. DePiano announce his passing on March 23, 2023. Salvatore died peacefully at Sunrise Senior Living in Fairfield, Connecticut.

Salvatore, age 96, was born January 26, 1927. He is the son of the late Carmen DePiano and Lucia (Foglia) DePiano, both Italian immigrants from Salerno, a province in Avellino, Italy. Salvatore was predeceased by his beloved wife Yolanda, brothers William and Patsy, sisters Angie, Ann and Mary. Salvatore is survived by his sister, Viola Soares of Easton, Connecticut, two children, Carl and wife Kim DePiano of Woodstock, Georgia and Karen Mahoney of Easton, Connecticut, grandchildren, Danielle DePiano, Jonathan and wife Madeline DePiano, Devin Mahoney and Kyle Mahoney and two great granddaughters, Poppy and Bradleigh DePiano.

Salvatore was a lifelong resident of Fairfield County Connecticut. A devout Catholic, he was a longtime parishioner of Holy Rosary Parish in Bridgeport. Sal or Sam as friends would call him, graduated from Warren Harding High School in 1944 and University of Connecticut in 1948. Following High School, Sal was drafted and spent one year in the Army and then went on to obtain his teaching certificate. He taught at his alma mater, Warren Harding High from 1950 to 1952.

In 1950, Sal married his teenage sweetheart, Yolanda Cavaliere, whom he first met at a Ritz Ballroom hop. In 1952, Sal surprised Yolanda by announcing he wanted to study law, so Yolanda continued to work to help support the household. Sal attended St. John's School of Law in New York and commuted each day by train from Bridgeport to Brooklyn. Sal worked small jobs and on weekends, he displayed his musical talent by playing his bass fiddle at Bill's Castle while studying his law books during band coffee breaks. Once anchored as an attorney, Sal became a court clerk and then a prosecutor before going into private practice in 1962. In private practice, Sal became one of the prominent criminal and civil attorneys in the State of Connecticut. He has argued cases before Connecticut Appellate Court and Connecticut Supreme Court. He has represented Mayors, Judges, Senators and other high-profile individuals. He was also admitted to practice in New York and Florida. Sal loved being actively involved in the community and was always on the go. Anyone that knew him would agree he fully enjoyed practicing law, helping people and loved animals. His kindness and generosity were part of his DNA. In addition to building a distinguished law practice, other notable life achievements included: State Senator for 23rd District and chairman of the Judiciary Committee, Past President of the Greater Bridgeport Bar Association, Chairman of the Statewide Grievance Committee, Chief City Attorney and Deputy City Attorney for City of Bridgeport. He also served on numerous civic and charitable organizations in the Fairfield County area. As his wife once said, "The Kid from Ogden Street Made It."

Dad, thank you for always being there for us. We may have outgrown your lap, but we know we will never outgrow a place in your heart. You are amazing and we are so lucky to have you always as our father. We will love you forever.

Relatives and friends may greet the family on Friday, March 31, 2023 from 4:00 – 7:00 p.m. in the Abriola Parkview Funeral Home, 419 White Plains Rd, Trumbull. All other services will be held privately.

In lieu of flowers, the family asks that a memorial donation be made to National Alzheimer's Association,www.alz.org.