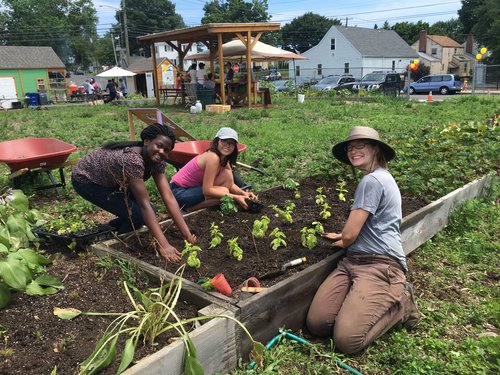 In a neighborhood old-timers call Whiskey Hill–they brewed their own up there during Prohibition–a spirited battle looms over a piece of property home to the Reservoir Community Farm and supporters lobbying the turf for a library.
The Connecticut Post's Brian Lockhart foreshadows the possibilities.
Run by the Bridgeport-based Green Village Initiative, the 8-year-old farm's lease for 1.5 acres of municipal property at Reservoir Avenue and Yaremich Drive expires in March 2022.

And activists and elected officials from that neighborhood have for some time been pressuring Mayor Joe Ganim's administration to instead build a library there.

"That's one of the main reasons why we supported Mayor Ganim," Steve Nelson, a North End community leader, said, referring to the incumbent's 2019 reelection. "He promised he would support us and make it happen. … [Neighborhood] kids have no access to a library. They have to go all the way downtown or to Madison Avenue.

… But Jim O'Donnell, the public library board president, in an interview this week said although the garden land would be "an ideal location," nothing has been decided and that the board would want the neighborhood to reach a consensus.

"We don't want to force a library into that neighborhood. No," O'Donnell said. "Everybody needs to be on the same page."
Full story here.