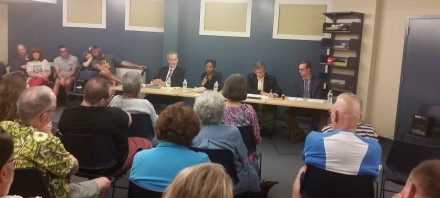 Retired Fairfield University political science professor Don Greenberg stood resolutely Tuesday night in the Black Rock Library directing a supposition to four candidates for City Council in the 130th District. The mayor won't sign off on the paperwork to fill vacant library jobs to keep services running smoothly. Essentially, asked Greenberg, a member of the Library Board, what will you do as council members to motivate mayoral action? It was one of many direct questions posed by neighborhood residents in an overflow meeting room of about 75 spectators that led to some testy exchanges and an occasional audience outburst fronting the September 12 Democratic primary. This is Black Rock, where loud and proud, passion and engagement complement a cool waterfront hamlet. But there's far more to this diverse district, the P.T. Barnum housing complex as well as a portion of the West End, the proverbial other side of the tracks.


One team, the endorsed Dems, features incumbent Scott Burns, co-chair of the City Council's Budget and Appropriations Committee and Rowan Kane, a millennial new to the neighborhood who has managed campaigns on behalf of candidates and now has become one. The other team fronts two Ivy League-educated insurgents Pete Spain and Christina Smith trying to capitalize on the anger from last year's revaluation-driven tax increase.
Sometimes the simplest question, as posed by Greenberg, forces a deep response search. And that's the dynamic of this type of race, how do candidates for legislative office provide a check on the executive branch? In Bridgeport the past decades the lines have often been blurred. Where's the legislative push back? Mayor Joe Ganim is hiding behind a hiring freeze due to the budget mess in Hartford that has curtailed state dollar flow to the city. But, as noted by Greenberg, the library budget is a dedicated fund separate from the city-side general spending. City voters made it that way about eight years ago to grow services and swat political power grabs.
None of the four candidates, all decent and intelligent, nailed an answer to Greenberg's question. Sometimes, it comes down to understanding power.
It was hard not to wonder what two spectators on this night–former City Council members Bob "Troll" Walsh and Lisa Parziale, who served as president of the body–would say to the mayor in response to Greenberg's question, but dare say probably something like this: "Mayor, you get nothing out of us until you clean up the library situation." It's called give and take, checks and balances. You'd be surprised how quickly the mayor would sign the library paperwork. If the council doesn't act, the mayor's agenda stalls. Now, you cannot do that in every situation, but you pick your spots on the important matters. And libraries matter, irrespective of former Mayor Bill Finch's misplaced declaration years ago that library workers are non-essential.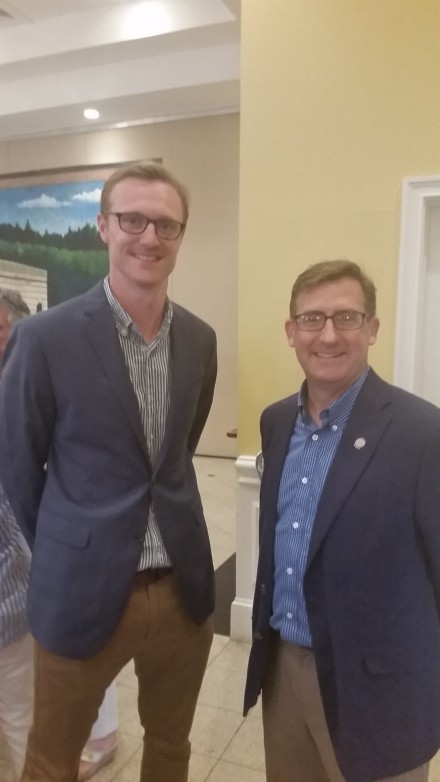 This race is a collision course between rhetoric and reality. Sometimes rhetoric wins. Sometimes reality survives.
A hot topic of the evening and campaign, last year's implementation of revaluation that socked Black Rock the hardest in a mixed bag of tax increases and cuts across the city. Burns is catching fire as budget chair in particular from Spain–armed with a list of Burns' campaign promises–who calls it the largest tax increase in history. Burns counters, no matter who was representing the district the reval-driven mil rate hike was fait accompli.
In 2014 Bill Finch's inner circle was so terrified of the tax impact of the revaluation in higher0turnout voting areas that they persuaded the state legislature and Governor Dan Malloy to delay it until after the 2015 election. The city had expended hundreds of thousands of dollars on a firm to establish assessments for the state-mandated revaluation of taxable property. When the reval company provided the numbers to Finch and his advisers it was fugly. They pressed for a delay, and got it. Finch lost the primary to Ganim anyway but the reality is whether Ganim, Finch, Mary-Jane Foster or Rick Torres as chief executive, a large mil rate increase was certain. The city was not going to cut its way through it.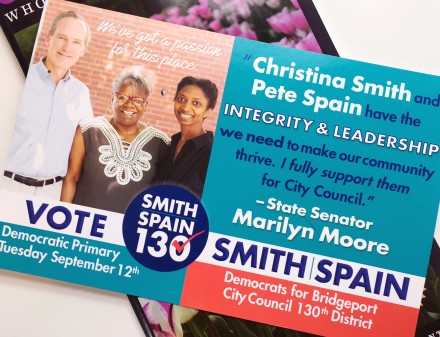 Attracting development, creating jobs, growing the grand list, building relationships in Hartford for more state money are the centerpieces for tax stability.
That's not to say candidates shouldn't be called out on their promises, as Spain and Smith are doing researching voting records, backgrounds and statements. The question of when Kane moved into the neighborhood is also called into question. Spain argues the guy's been here for a cup of coffee, what's his commitment to the neighborhood? Kane asserts I moved in more than a year ago because I love the neighborhood and want to make it better. One person's fact is another's fiction. It's the nature of the beast. Also, idealism versus pragmatism.
Sometimes idealism is pragmatism wrapped in reality. It just takes time to sort out. And this race is a good one to sort out.