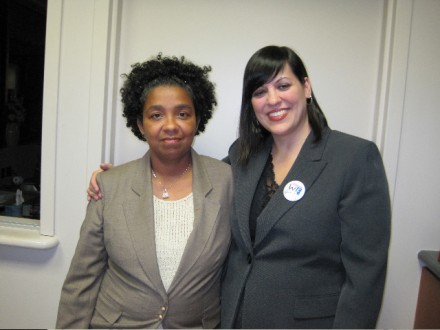 Sauda Baraka has carried the banner of the Connecticut Working Families Party since her election to the Board of Education on that line in 2009. She's leaving the school board in November but her presence with the WFP will remain as the chair of the newly created Bridgeport WFP Town Committee.

As numbers go, the WFP city registration is small, but the party's impact has been mighty on the school board the past eight years. The WFP has also announced its endorsements for school board, tapping Democratic incumbent Howard Gardner, Joseph Sokolovic and Shavonne Davis to run in the November general election. Under state-mandated minority party representation, three of the nine school board seats are reserved for minority parties. The WFP has slugged it out with city Republicans for those three slots. Sokolovic will also appear on the GOP school board line in November.
Baraka and Maria Pereira both won seats on the school board in 2009 running ahead of the Republicans. Pereira, who served one term as a WFP board member, had a falling-out with the organization's leadership. In 2015 she was elected to the board for a four-year term running as a Democrat on Joe Ganim's mayoral line.
The WFP has built city support working Democratic and unaffiliated electors on issues such as living wage, health care and racial justice.
The WFP also endorsed East End activist Wanda Simmons for City Council in the 139th District. Simmons has also qualified for the September 12 Democratic primary.
News release from the WFP:
Connecticut Working Families Party members in Bridgeport have voted to create a Bridgeport WFP Town Committee, which will be chaired by Sauda Baraka. In addition, the Connecticut WFP has endorsed 4 candidates for the elections taking place on Tuesday, November 7th.

The Working Families Party is endorsing the following candidates in Bridgeport:

City Council:
Wanda Simmons (139th District)

Board of Education:
Howard Gardner, Joseph Sokolovic, and Shavonne Davis (all At-large)

Sauda Baraka, Chair of the WFP Town Committee:
"I am excited to open a new chapter in Bridgeport history with the creation of the Bridgeport Working Families Party Town Committee. Citizens of Bridgeport are "sick and tired of being sick and tired." We need to restore living wage jobs, with essential benefits like sick days, healthcare, and strong retirement plans. As a proud sanctuary city, we must be vigilant in protecting immigrant families from the draconian tactics employed by ICE. All people deserve safe and clean neighborhoods, life-changing educational opportunities, and accountable government. Our WFP Town Committee will seek and empower the next generation of progressive leaders, who care about a brighter future for our people and have the vision to accomplish it.

"The Working Families Party offers our citizens an independent alternative to the two existing party establishments that have led our city astray. The WFP Town Committee offers a fresh perspective on what it means to be a public servant, and a real vision for investment in our people and infrastructure. We are proud to represent Bridgeport, a truly cosmopolitan city enriched by its diversity and history. Above all, we will protect and serve our families from threats of widening income inequality, budget cuts, xenophobic deportations, and privatization. We have high goals and high expectations, because that is what the people of Bridgeport deserve."

Carlos Moreno, Interim State Director, CT Working Families Party:
"Working Families is proud to establish a WFP Town Committee in the city of Bridgeport, as well as to endorse such an inspiring slate of progressive candidates. The Working Families Party has long been a progressive presence in Bridgeport, working toward a just and vibrant future by fighting against income inequality, empowering communities of color, opposing privatization, and supporting investments in public education. The newly formed Bridgeport WFP Town Committee will lead the way to bold change and bold candidates for the city's future.

"The Connecticut Working Families Party fights for investment in public education and infrastructure, against privatization, and for policies that lift up workers, women, immigrant communities, and people of color. WFP understands that creating a stronger economy and more just future means greater public investment, fair taxation, and the empowerment of local communities. All endorsed candidates are carefully vetted and interviewed on these issues before a board vote.

Candidates seeking WFP's endorsement pledge to support WFP's 2017 municipal policy platform, including:
— Defending the fundamental right to organize and collectively bargain
— Sponsoring and strengthening living wage policies
— Ensuring that economic development means hiring locally and supporting well-paying union jobs
— Opposing the privatization and corporatization of public schools in any form, including vouchers and charter schools
— Advocating for increasing the state's share of Education Cost Sharing funding to each school district, rather than allowing state proposals to pit cities and town against each other for resources
— Supporting inclusionary zoning legislation for affordable housing
— Fostering trust between law enforcement and local communities by making police department more representative of and accountable to the communities they serve
— Protecting immigrant neighbors and implementing policies or resolutions to provide sanctuary to undocumented communities
— Holding corporations accountable to the public's interest and development

WFP-endorsed Candidate Statements

Wanda Simmons, candidate for Bridgeport City Council (139th District):
"I am proud to accept the endorsement of the Working Families Party, because I know they are on the front lines fighting for fairness for working families. I have had enough of the dysfunction and decay that stops Bridgeport from achieving its potential. I will fight to renovate our city, to invest in our schools, and to raise wages and living standards. That is the path forward for our families. More privatization can only do more harm."

Howard Gardner, incumbent candidate for Bridgeport Board of Education:
"I have fought on the Board of Education for improvement in student achievement, more transparency between government and parents, for better investment in our kids, and against attempts to take away from our public schools to give to private interests in charter schools. Our kids are our future, and investment in our kids is an investment in the future of Bridgeport. That's why I am proud to accept the endorsement of the Working Families Party. They understand what it means to invest in a vibrant future."

Joseph Sokolovic, candidate for Bridgeport Board of Education:
"Across the state, I have seen our politics moving our schools in the wrong direction. That's why I'm running for the Board of Education, to protect our children from political interference in their classroom. That's why I'm excited to accept the Working Families Party endorsement. I have long advocated for more public education funding and am fiercely opposed to the layoffs, cuts, and privatization of services that are doing both long-term and short-term harm to our public schools. As a proud and lifelong union member of TWU Local 100, I benefit from the struggles of my past union brothers and have had to strike for my rights in the present day. I will fight to raise standards for our students and teachers. I will also resist any attempts to publicly fund charter schools that are proven time and time again to harm public education, lower standards, cherry pick students, and cost good union jobs."

Shavonne Davis, candidate for Bridgeport Board of Education:
"I am glad to accept the endorsement of the Working Families Party, because I know they will join with me in defending every child's fundamental right to an excellent and well funded public education. Charter schools hurt our educational outcomes and equality, and I will oppose any attempt to corporatize and privatize our schools. I will fight for greater funding and aid for our schools, as well as for the fundamental collective bargaining rights of teachers and staff. Through meaningful public investment, we can lift up our schools and city for generations to come."

The Working Families Party endorsement comes with strategic campaign support and candidate training. All candidates are carefully vetted to ensure that they reflect the views and goals of Working Families' members. Recent polling affirmed Working Families' members vote for candidates who fight for economic justice, tax fairness, living wages, and workers' rights. They also want affordable healthcare, strong public education, and immigration reform.

In the last election, the Connecticut Working Families Party garnered its strongest showing to date, having received over 5% of the vote on its line for U.S. Senate. Approximately 87,948 votes were cast for Richard Blumenthal on the Working Families Party ballot line.

The Connecticut Working Families Party is a grassroots political organization that fights for economic and racial justice. The national Party has chapters in a dozen states and a membership across all 50 states. The WFP is training and electing the next generation of progressive leaders to office, and fighting for and winning public policies that make a difference in the lives of working people, from raising the minimum wage to increasing funding for public education, to combating climate change, to reforming policing practices and diminishing the influence of big money in politics.