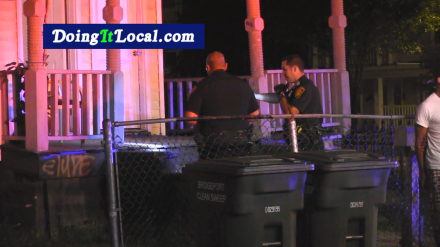 From public safety spokesman Kevin Coughlin:
Bridgeport police responded to a non-fatal shooting last night near the intersection of Newfield Ave. and Stratford Ave., and are asking the public for assistance in finding the suspects.
At 10:53 p.m. on Tuesday, the Bridgeport Police Department received a call regarding a victim, Abdul Nelson (09/04/75), being shot.

Mr. Nelson suffered injuries to his upper left leg, lower right leg, and two fingers on the left hand.

Nelson was transported to Bridgeport Hospital and his condition is non-life threatening.

Nelson stated that he was on his front porch when he heard a shot and felt the bullet. He said that he did not know where the shots came from.

Two witnesses near Nelson stated they heard 3 to 4 shots in the direction of Stratford Avenue and Newfield Avenue and then saw a vehicle take off.

If anyone has information regarding this incident, please contact Detective John Tenn at (203) 581-5243.