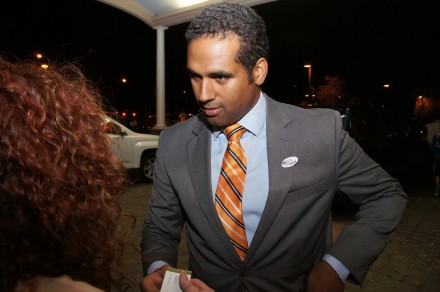 Update: SEEC rejected Bradley application. Embroiled in an investigation by the State Elections Enforcement Commission, Democratic State Senate nominee Dennis Bradley will likely find out Friday afternoon if his $95,000 public campaign grant will be approved for the general election, or something worse, just a few weeks away. SEEC investigators are looking into allegations that Bradley unlawfully leveraged his law firm's resources to promote his campaign, something that could constitute an illegal in-kind contribution, stemming from his March 15 campaign announcement at Dolphin's Cove in the East End that was described as a "Thank You" celebration sponsored by BDK Law Group." Bradley has been in negotiations with the SEEC trying to bring resolution to the matter that could levy a hefty fine. The commission is scheduled to meet Friday afternoon.

During his State Senate campaign announcement, some of which is captured in a video featured on his Facebook page, Bradley makes references to his law firm's relationship with the community and his Senate candidacy. "God bless you all," Bradley declares to hundreds of enthusiastic supporters at Dolphin's Cove. "Drinks are on the house, food is on the house and love is all over the room." The announcement transpired as Bradley prepared to raise campaign money to qualify for Connecticut's Citizens Election Program of publicly funded races.
The SEEC is looking into how much the law firm supplemented his candidacy during the campaign.
Bradley, the endorsed Democrat, defeated Aaron Turner in an August primary. Bradley received roughly $85,000 in public funds for the primary, but the SEEC has withheld the public grant for the general election pending settlement of this matter.
In April, Turner filed an SEEC complaint against Bradley accused of an inappropriate financial overture to a Stratford mayoral candidate in exchange for her support. Bradley denies the charges. See complaint here that the SEEC is also investigating. The SEEC has civil enforcement of election laws. If investigators uncover criminal conduct the commission will refer those findings to the Office of the Chief State's Attorney.
Bradley is being challenged by Republican John Rodriquez in the general election, but in a district that's more than 10 to 1 Democratic, Bradley can survive without any general election dollars.
Bradley, a member of the Board of Education, also had an SEEC complaint lodged against him by fellow board member Maria Pereira who supported Aaron Turner in the primary. In that complaint Pereira charges Bradley made inappropriate use of his law firm in an ad campaign on OIB that began in May and lasted through mid September. The SEEC is also investigating this complaint.
Connecticut's 23rd Senate District covers about two thirds of Bridgeport and a portion of western Stratford. Incumbent Ed Gomes did not seek reelection.