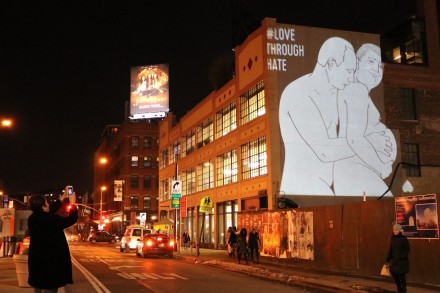 Hmmm, drop the T in Trump and you have Put-In Rump. Seems fitting. (Yeah I know, couldn't resist.) From Business Insider.
Anyone visiting the Apple store in New York's Chelsea neighborhood got an unusual surprise on Tuesday night: a giant projection of Russian President Vladimir Putin caressing a very pregnant Donald Trump.
The image was projected on the side of building on the corner of 15th Street and Ninth Avenue, which is the location of Apple's Chelsea retail store.

The Valentine's Day stunt was coordinated by the app Hater–a Tinder-style dating app that matches you with other users based on things you both hate. The illustration of Trump and Putin appeared next to Hater's upside-down-heart logo and a hashtag with the company's tagline, "Love Through Hate." As it turns out, nearly 80% of Hater's more than 200,000 current users say they "hate" Trump.
Full story here.