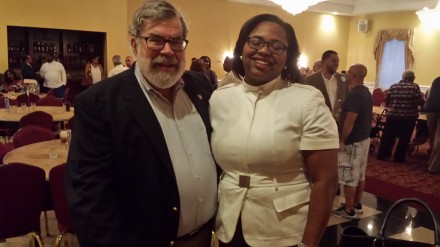 Navigating a Freedom of Information request through a government agency can be a rowboat against the tide. If you can figure out where to issue a request is another story. Mayor Joe Ganim's administration has made it easier to secure information through its Open Bridgeport website. A Freedom of Information portal is also now featured on the city website here with requests processed through the City Attorney's Office.

Not everything you think is public information is accessible from the city's perspective. For instance, OIB recently requested the names of the three finalists from which Mayor Joe Ganim will select the city's next fire chief. The City Attorney's Office cited personal, privacy considerations, for instance what if their existing employer does not know about the application? The mayor is expected to make a decision on this within a few weeks.
But the flow of information has improved from past administrations.
City Attorney Chris Meyer says Associate City Attorney Tyisha Toms is charged with following up on FOI requests, overseeing a response team "based on the mayor wanting to make our city government more open and transparent." In addition each city department has a point person assigned to access the requested information.
Toms was a candidate for City Council a few years ago with none other than the resilient requester of public information John Marshall Lee who's fussy in his compliments toward city bureaucrats, but in this case the good general reports a thumbs-up.
The city website page includes a FAQS section that addresses in-person FOI requests, frequently claimed exemptions, receiving a response and securing a copy of accident report.
For instance:
What are some frequently claimed Exemptions?

Answer:
— Invasion of privacy [1-210(b)(2), G.S.]
— Law Enforcement records [1-210(b)(3), G.S.]
— Test Questions [1-210(b)(6), G.S.]
— Privileged communications [1-210(b)(10), G.S.]
— DOC & safety risk [1-210(b)(18), G.S.]
— DESPP & Safety Risk [1-210(b)(19), G.S.]

How long after I submit will I receive a response?

Answer:
Agency should acknowledge request within four business days. Pursuant to Conn. Gen. Stat. § 1-210, public records must be kept accessible and must be made available to a requesting person "promptly during regular office or business hours." It is the Freedom of Information Commission's (FOIC) opinion that the word "promptly," as used in Conn. Gen. Stat. §1‑210(a), means quickly and without undue delay, taking into account all of the factors presented by a particular request. In Advisory Opinion #51, the FOIC stated "[because the facts are going to vary, and vary in significance, in each case, the Commission cannot definitively set out in this opinion all of the factors that should be considered in determining promptness." However, the FOIC advised that "common sense and good will ought to be the guiding principles."

See Conn. Gen. Stat. sec. 1-206(a); 1-210(a) and Advisory Opinion #51.