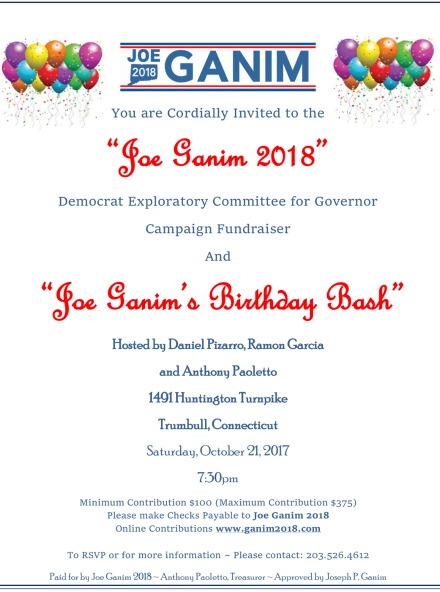 If it's a candidate's birthday, what better gift than a campaign contribution? To a candidate's way of thinking, anyway. Saturday night, at the Trumbull home of city employee Danny Pizarro, "Joe Ganim's Birthday Bash" requires a minimum $100 contribution to his 2018 exploratory campaign for governor.

The mayor, who turns 58, is moving around the state schmoozing Democratic Party insiders and hosting fundraisers as he positions for a statewide run in a Democratic field short on high-profile candidates. Will Lieutenant Governor Nancy Wyman jump in? One high-profile pol, former Connecticut Secretary of the State Susan Bysiewicz, is giving it some thought. The last we heard from SuBy she got clubbed in a 2012 primary for U.S. senate by Chris Murphy.
But that tells you the nature of the current state of the race. Who really wants the messy job of navigating Connecticut's financial minefield?
The Republican field, so far, has more action including Danbury Mayor Mark Boughton, Shelton Mayor Mark Lauretti, Trumbull First Selectman Tim Herbst and former U.S. Comptroller General David Walker, a city resident, among the candidates.
Right now, for most of the candidates, it's all about the money honey, trying to qualify for the state's public financing program while cozying party insiders for support ahead of the May endorsement session. As the field stands today both parties are heading for 2018 August primaries.