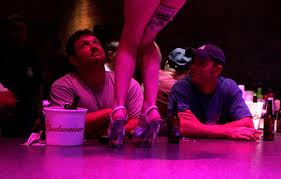 A public hearing with a possible vote by the City Council is scheduled to take place tonight at 6 in City Hall on the long-awaited proposed ordinance to regulate adult entertainment establishments in the city. A coalition of city neighbors under the banner www.onebridgeport.com is rallying support for passage led by City Councilwoman Sue Brannelly.

The proposed ordinance was passed by the Ordinance Committee last week but not without some opposition. Proponents ague adult entertainment establishments attract crime, drugs and hurt property values. Those opposed to the ordinance maintain that's an exaggeration adding the regulations add intrusive costs to establishments running legitimate operations. OneBridgeport has circulated a petition presented to members of the legislative body. The ordinance has the backing of Mayor Bill Finch. See petition language below. For more about the proposed ordinance, visit www.onebridgeport.com.
We, the people of the City of Bridgeport, urge you to vote YES in favor of the Sexually Oriented Business Ordinance for the City of Bridgeport. For far too long these businesses have been operating without regulation, are a nuisance to neighborhoods, bring down property values and the quality of life, foster an environment for trafficked and exploited people from this country and from outside its borders, and impair the morals of children who see it in their backyards and who are vulnerable to growing up into the lifestyle. The list goes on and on. This ordinance needs to pass the City Council NOW and to regulate these businesses and create a safer environment for all Bridgeport residents.