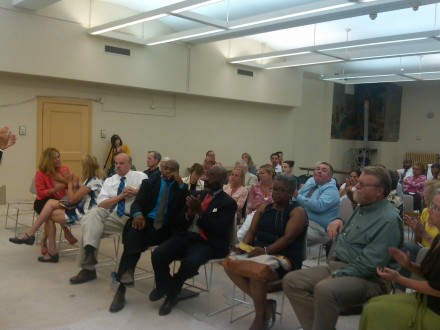 School board civility, closing the achievement gap and reducing conflicts of interest in government were all themes touched on at a public forum Monday night at the Bridgeport Public Library hosted by the political action group Citizens Working For A Better Bridgeport that invited candidates for Board of Education and City Council to speak about city concerns and their rationales for running for office.

Bridgeport resident David Walker, former U.S. comptroller general and one of the organizers of the community group, greeted the crowd of 50 at the Downtown main library. "When I moved here I didn't know what I know now," Walker said. "The truth is–Connecticut has the highest liabilities and unfunded pension and retiree health care promises per taxpayer of any state in the union. In addition, Bridgeport's liabilities and unfunded promises per taxpayer are over three times higher than Stockton, CA–which is currently in bankruptcy."
Walker said the City Council is supposed to serve as a check and balance protecting taxpayers. It's not serving that function, he argued. "I got involved because the only way things are going to change is for concerned citizens to get involved."
State Senator John McKinney, a 2014 Republican gubernatorial candidate, addressed the crowd. "As a young boy I remember walking in parades, walking in housing projects in Bridgeport" with his father the late Congressman Stewart McKinney. "I don't live in Bridgeport but I'm here to support the people who do. Partisanship stops progress," McKinney told the audience highlighting his support of a government reform bill defeated in the latest state legislative session by two Democratic state senators representing Bridgeport, Anthony Musto and Andres Ayala, to prohibit city employees from serving on the City Council. Bridgeport State House members Democrats Jack Hennessy and Auden Grogins co-signed the legislation. Bridgeport's City Charter bans public employees from serving on the legislative body but a loophole in state law allows it. The measure was advanced by both Democrats and Republicans to eliminate conflicts such as city employees on the council approving their own wages and benefits. Bridgeport's Democratic political establishment largely opposed the bill.
The primary purpose of the forum was inviting candidates to speak to help Citizens Working For A Better Bridgeport weigh endorsements for public office in both the September 10 primary and November general election. The organization has formed a political action committee and intends to provide financial support to endorsed candidates.
The conflict of interest issue raised by McKinney was also addressed by Phil Blagys, the Republican City Council running partner of two-time GOP mayoral candidate Rick Torres. Blagys said he had been asked to run for public office prior but the tipping point for him was the failure of some local elected leaders to support the government reform bill against the will of the people opposing city employees from serving on the council. Blagys said he sees this election as a "season of change." Blagys and Torres will take on Democratic incumbents Sue Brannelly and Steve Stafstrom representing Black Rock in a high-profile November council race.
Five of six Democrats running in a September 10 primary for school board were in attendance. The endorsed slate of Katie Bukovsky, Simon Castillo and Brandon Clark is being challenged by Andre Baker, Howard Gardner and Dave Hennessey. Castillo was the lone primary candidate not in attendance.
Bukovsky, whose son attends 8th grade at Black Rock School, told the audience she was new to running for public office, saying one of the reasons she decided to run was to change the decorum among school board members. "We need school board members who are respectful and dedicated. I care about these kids."
Gardner spoke about the need to involve parents. "If we don't engage parents we're not going anywhere. There's a deliberative relationship between education and economic opportunity. It should not be a bunch of bureaucrats determining what's best."
Clark, a counselor at Achievement First Bridgeport Academy, stressed that closing the achievement gap is his greatest goal. "I'm here to prove to single families that the road to going to college is possible."
Hennessey focused on his education experience as both a teacher for 38 years and what was stressed in his family growing up. "In my family education is the only thing." His children attended public schools in Bridgeport, "but the last three superintendents have failed our children. The board is supposed to be a civil, open dialogue … for those reasons I have to be involved."
Several other school board and City Council members addressed the audience as well. OIB will cover positions and proposals of these and other candidates in the weeks ahead.