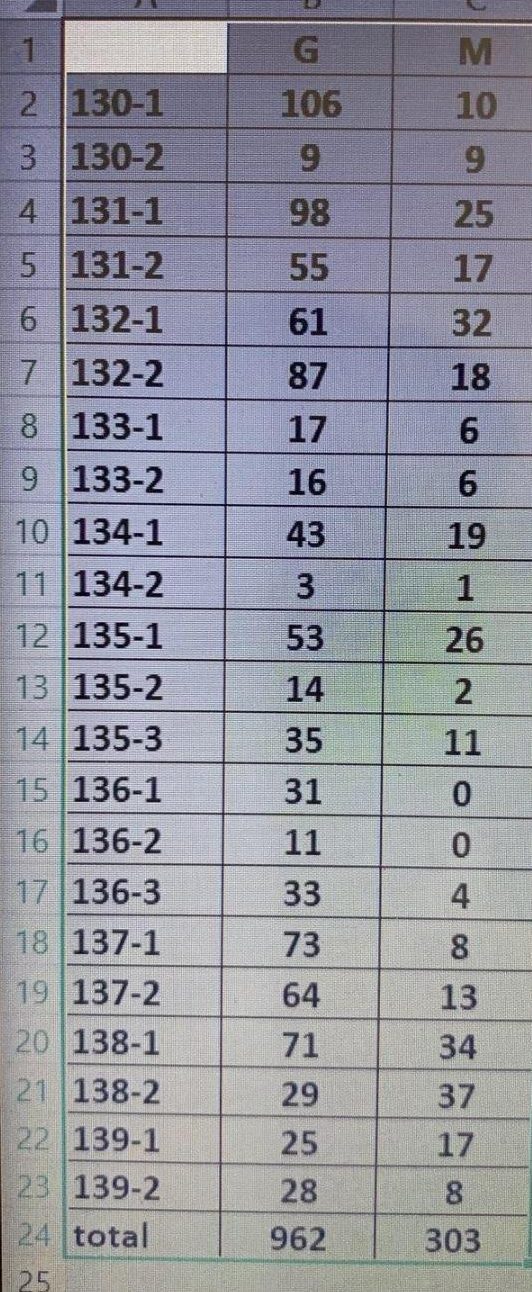 Absentee ballot count by district
You'll hear heightened hullabaloo over the next few weeks about absentee ballots this and absentee ballots that, an aggressive ploy by the Democratic political organization to thwart Marilyn Moore's insurrection of incumbent Joe Ganim in Tuesday's primary.
Moore won the machine count by roughly 350 votes only to be trounced by absentee ballots, 962 to 303, something Moore political operatives fully expected. They just weren't sure if it would be by 500, 600 or 700.
Democratic Town Chair Mario Testa, fearing a tide moving toward Moore, rallied campaign operatives to bank, as insurance, absentee ballots that have become a bigger part of the political establishment's campaign plan. Moore's operation said very little about the coming AB storm during the campaign.
There's nothing wrong with banking absentee ballots, there's a legitimate way of wooing voters in the cause of elevating a candidate. Ganim's side worked it, Moore's side worked it. Moore and some of her supporters have now raised the specter of a diabolical plot urging state and federal authorities to examine potential impropriety. Trouble is, so far the Moore camp has provided no specific examples, something that may or may not come.
Other Moore supporters, in contrast, assert privately if you poke that absentee ballot bear it might come back to bite you, arguing they had their own unsavory characters working the process. Sure, take a look at Ganim's AB operation, but what if someone starts looking into Moore's campaign machinations? They will see this 2018 guilty plea from Betty Chappell for absentee ballot fraud in connection with a Stratford mayoral race.
Chappell has been paid $1,400 by Moore's campaign, according to her latest campaign finance report. See moorefinancereport
Chappell worked for Ganim's 2015 mayoral campaign as well, but settled on Moore this cycle.
Out of 23 primary precincts Moore enjoyed just one area she eclipsed Ganim by absentee ballots, Hooker School on the Upper East Side, the support base of outgoing school board member Maria Pereira whose primary win for City Council was aided by an aggressive absentee ballot effort.
Pereira did not have a dog in the mayoral primary fight. She's no fan of Ganim and she's rather underwhelmed by Moore who did not ask for Pereira's support after political supporters urged her to keep her distance maintaining Pereira's a high-octane personality who eventually turns on candidates she supports.
Some of them may wish for a do-over. Here's why. Elections are ultimately determined by vote swings. The latest unofficial results from the website of the Connecticut Secretary of the State shows Ganim winning with 5,304 votes to Moore's 5,034, a difference of 270 for a vote swing of 135. Take 135 votes away from Ganim and give them to Moore, now it's dead even. It's that simple.
At Hooker School, Pereira spent 14 hours urging voters to fill in her oval along with running mate Samia Suliman on Line B where Moore was located. She did not push a candidate for mayor but results show Moore indirectly benefited from Pereira's effort both on the machine count as well as absentee ballots. Moore defeated Ganim at Hooker on the machines 300 to 261, the only precinct she carried in the eastern portion of the city where Ganim dominated, albeit with a breakdown in Hispanic turnout that Ganim failed to maximize. Moore defeated Ganim by absentees at Hooker 37 to 29. That's an indirect product of Pereira's campaigning.
The voter atmosphere clearly existed for Moore to win such a large machine count to overcome Ganim's large absentee advantage.
Campaigns, in the end, center on a strategy to push the candidate over the finish line. If Moore had made a couple of reasonable adjustments during her race, you'd not be hearing about that dastardly establishment swindling the race.
Example 1 is Pereira. You schmooze her support, let her do her thing in a small window for the bigger cause of winning. Moore preferred Tony Barr's support at Hooker over Pereira where Pereira received 285 votes to Barr's 51 for City Council.
Even without pushing Moore, Pereira's effort aided her. Just imagine if Pereira had all her supporters pushing Line B. That's votes away from Ganim that would go to Moore. In addition, Moore would have run stronger at JFK, the other precinct in the 138th District with Pereira and Suliman pushing Line B.
Another example is Chris Caruso, a two-time mayoral candidate and political warrior who was willing to serve as the campaign's pit bull to contrast Moore versus Ganim; highlight issues that escaped the campaign and warn against the proliferation of absentee ballots. If Caruso's screaming about absentee ballots during the course of the primary it's going to give opposition operatives some pause about not pushing the effort.
Hindsight is 20/20? Not in these instances. OIB, in both editorial and comments section had vigorous discussions about Moore not maximizing votes because of her rejection of Pereira and underutilization of Caruso.
Other instances exist of poor strategic planning in the Moore camp that cost her the primary. Ganim, as well, had his own share of strategic failures, but that's another story.