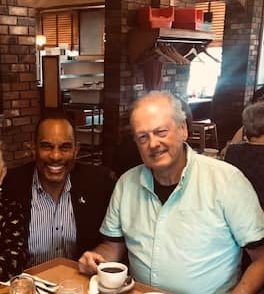 State Senator Marilyn Moore's campaign for mayor came tantalizingly close to taking out an incumbent in a Democratic primary. Her Plan B for general election relevancy evaporated when her operatives botched the signature process to proclaim the Connecticut Working Families Party line, a disclosure that came to light just a few hours before the primary polls closed.
The night had shaped up for Mayor Joe Ganim exactly how he did not want it, losing the machine totals rescued by absentee ballots providing a platform for Moore to engineer a second-chance battle cry for justice.
Team Ganim breathed a sigh of relief primary night when it learned Moore's path to the mayoralty had hit the skids.
Tuesday night, standing on the stage of the Bijou Theater, Moore thought she had a general election avenue on the New Movement Party line that supporter Tony Barr assured he had locked up. Barr announced he'd cede his ballot spot to Moore.
Nope.
Barr would be the most popular guy among Moore's minions had he also followed election law guidelines. He did not. His effort also required petition signatures to occupy that line in November.
What other line is available to Moore in lieu of a long-shot write-in candidacy? The Republican line owned by John Rodriguez who won a three-way GOP primary for mayor.
The weekend chatter centered on Rodriguez possibly ceding his Republican line to liberal Democrat Moore.
Republican Town Chairman Mike Garrett and Rodriguez both shared that there's a lot of "talk" about this but if anything's in the works it's news to them.
"I saw Marilyn on Saturday," said Rodriguez Sunday afternoon. "We had polite conversation. She never said anything to me about that."
Is there a circumstance Rodriguez would give up his line to Moore?
"I like Marilyn, she's a good person, but I am a Republican with conservative values."
Rodriguez, retired at 67 years old, is going about his business courting voters in a long-shot win.
"If Marilyn wants to talk I would listen," he says "but understand she's a Democrat and I'm about breaking up the Democratic machine. Maybe she should come to me to support me."
Some Moore supporters have encouraged her to approach the Republican standard bearer in the cause of city unity to take out the political establishment.
Even if Moore wanted to approach Rodriguez in the cause of city unity it comes with trap doors.
She's the darling of the political left–labor unions, minimum wage increases, gun control, family leave pay, government health care, corporate warfare–anathema to Republicans.
To that crowd it's like dance with the devil and the devil changes you.
For Moore supporter Bob Walsh, a former city councilman, running on the GOP line is a no-brainer, considering the options.
"If she wants to be a transformational figure, be a transformational figure," says Walsh, adding she doesn't have to sell her soul to city Republicans because … what do they have now?
What could Moore offer the GOP? An enhanced voice in government, including minority-party representation on the City Council that would require a City Charter change by voters. Yes, jobs for this one and that one, but then she becomes everything she's railed against, right?
What's the process for a candidate to relinquish a ballot spot in this case? From Gabe Rosenberg, spokesperson for the Connecticut Secretary of the State:
The candidate would have to notify the Town Clerk in writing that they were withdrawing. Then the local party, pursuant to their party rules, would select a new candidate. The deadline is 21 days prior to election day but, realistically, there is a practical deadline of making sure the ballots can be printed in time to begin distribution on October 4th.
Then, there's the Trump factor.
Moore's base loathes Trump.
What does Rodriguez think of Trump?
"He's doing his job."