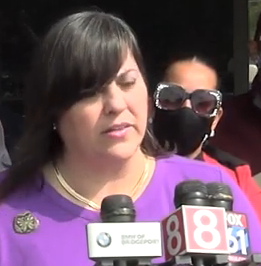 Monday's virtual City Council meeting could turn into the Monday Night Fights when Maria Pereira, stripped of committee assignments by Council President Aidee Nieves for actions unbecoming of a member, is scheduled to address the body re "Valle & Brown conduct as Co-chairs, City Council Attendance from Dec. 2019 – Nov. 2020 and Secret City Council Adhoc Committee."
The council agenda reference is for councilors Maria Valle and Marcus Brown. Pereira is something of a stickler regarding public official attendance be it her time on the Board of Education and now her first full year on the legislative body. She will likely issue a report card targeting council absences culled from minutes of committee and full council meetings.
How many council members will be bothered to plug in at 6:30 p.m. of the virtual meeting for public speaking and how much will Pereira cram into the few allotted minutes? The regular meeting starts at 7 p.m.
Council members, of course, will argue quality over quantity returning fire at Pereira's scorched earth chaos and disruption of the body politic.
If you want to hear the action call the following conference line and then enter the conference code: Dial-In Number: (929) 436-2866 Meeting ID: 381 083 245.
Fire up the popcorn and bubbly.
Full council agenda here.