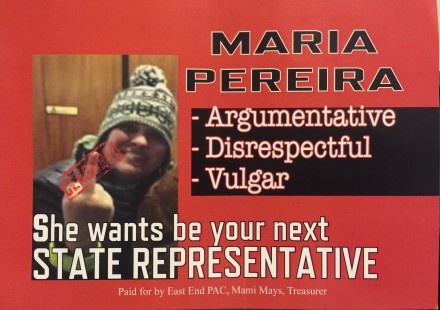 Sometimes a primary result can come down to one digit. Supporters of State House incumbent Charlie Stallworth hope that's the case in his favor, in more ways than one. A political action committee based in the East End has dropped an independent expenditure attack against school board member Maria Pereira who's battling Stallworth in Connecticut's 126th State House District in Tuesday's hotly contested Democratic primary. A flyer dropped at the doors of voters in the heavily African American Wilbur Cross precinct, the base support of Stallworth, features an image of Pereira sticking her middle finger, a photo that was originally published on OIB after a slate she led defeated all nine Democratic establishment candidates last March in a Town Committee primary.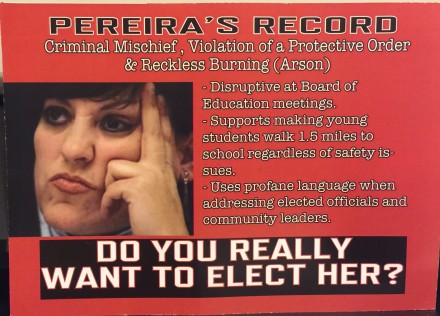 The outspoken Pereira, a relentless retail campaigner, has Stallworth supporters worried she will take him out on Tuesday. City political operatives opposed to Pereira had privately discussed a late hit piece on Pereira for weeks if they saw the race too close for comfort. Most of those operatives are the same ones who lambasted Bill Finch's strident attacks against Joe Ganim's criminal past in last September's Democratic mayoral primary including the over-the-top mailer accusing Ganim of working for a white supremacist group. The attacks backfired against Finch, who lost black precincts in large numbers.
The flyer attacks Pereira's personality, in particular "Pereira's Record" citing "criminal mischief, violation of a protective order and reckless burning (arson)."
"I have never been convicted of these crimes nor have I ever plead guilty to these crimes," says Pereira.
In 2005, a domestic dispute between Pereira and her then boyfriend was resolved with her pleading to three misdemeanor violations and her boyfriend four. The flyer also accuses her of being disruptive at school board meetings, using profanity against elected officials and community leaders.
The handout has one purpose, create doubt about Pereira as Democrats head to the polls on Tuesday.
The finger image of Pereira was cropped. The original image also featured two successful slate members, Angel Figueroa and Eric Stewart-Alicea, who serves as Pereira's State House campaign treasurer, doing the same in a fun gesture against the political establishment on the night of the March primary. Figueroa had a falling-out with Pereira and says he's now supporting Stallworth. An OIB photo also included the three posing with a thumbs-up.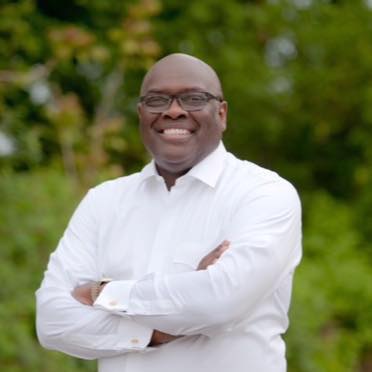 The East End PAC has historically been headed by District Leader Ralph Ford, a controversial political leader in his own right. In 2014 he was fired from his $120,000 state position as behavioral health clinical director with the Greater Bridgeport Community Mental Health for performing private practice duties on state time with state resources. Ford recently stepped down as chair of the PAC. His wife Kimberly Ford served as treasurer for more than a decade. The most recent filing on line with the State Elections Enforcement Commission lists Kimberly Ford as treasurer and East End Democratic Town Committee member Clem Young as chair. The flyer disclaimer, however lists Mami Mays as treasurer.
The East End PAC has leveraged funds in support of or against a number of candidates throughout the years. Stallworth, also a mayoral appointee in charge of the minority and small business office, is pastor of the East End church where Ganim issued his first public apology in January of 2015 following his 2003 conviction on public corruption charges. Ford supported Ganim over Finch last year. Stallworth's State House district does not include the East End. It takes in portions of the North End and Upper East Side where Pereira has a base of support in the Hooker School precinct.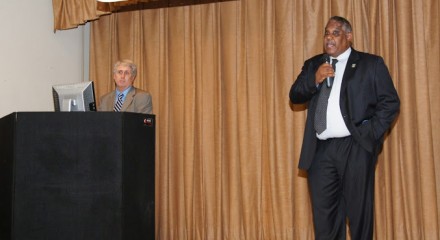 Last month Superior Court Judge Barbara Bellis declared Ford had "perpetuated a fraud on the court," and ordered state elections officials to place Ed Gomes' name on the August 9 primary ballot ruling that "roadblocks" were set against the incumbent state senator when his candidacy was invalidated by the Office of the Connecticut Secretary of the State because he had not submitted a consent form within two weeks of the endorsement session that took place at Testo's Restaurant. Ford, who chaired the endorsement session, supports party-endorsed candidate for State Senate Dennis Bradley.
Ford responded the judge got it wrong.
In addition to the Pereira-Stallworth primary, three other Dem primaries will take place Tuesday: Gomes and Bradley in the 23rd Senate District, State Senator Marilyn Moore against party-endorsed Tom McCarthy in the 22nd District and multiple-mayoral candidate Charlie Coviello against 124th State House District incumbent Andre Baker.