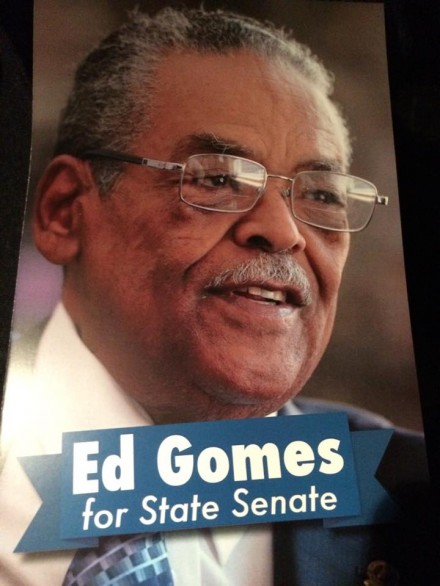 Declaring that East End District Leader Ralph Ford, a supporter of Democratic-endorsed Dennis Bradley, "perpetuated a fraud on the court," Superior Court Judge Barbara Bellis on Friday ordered state elections officials to place Ed Gomes' name on the August 9 primary ballot ruling that "roadblocks" were set against the incumbent state senator when his candidacy was invalidated by the Office of the Connecticut Secretary of the State because he had not submitted a consent form within two weeks of the endorsement session that took place at Testo's Restaurant.

Gomes' lawyers contended "On the night of the convention it was not reasonably possible for Gomes to have obtained the executed Certificate of Eligibility Form."
The endorsement for Connecticut's 23rd State Senate District took place May 23rd at Testo's Restaurant. In a close contest Bradley, chair of the Board of Education, won the endorsement over Gomes with Bradley supporter Ford chairing the convention. Gomes received plenty of delegate support to qualify for an August primary. According to the state election calendar, see here, the Gomes campaign had two weeks to submit the "15% candidate certificates filed by 14th day after close of convention." That means paperwork on behalf of Gomes should have been submitted by 4 p.m. June 6.
While Bellis said Gomes had not taken the steps to file the necessary paperwork on time, she ruled that "roadblocks" were set up against Gomes, particularly by Ford who she said failed in his duty to provide the consent form to Gomes while issuing the paperwork to Bradley, the candidate he supports. After the state invalidated Gomes' candidacy, Ford said it was Gomes' obligation to file the paperwork, something he reasserted Friday afternoon upon learning Bellis' decision. He said he did not lie under oath and refuted Bellis' claim that he misled the court.
"Judge Bellis got it wrong," said Ford, a therapist by profession with a private clinical practice. "The statute says each candidate is responsible for getting their certification papers in to the state. Even though I was chairman of the convention I was never given a copy of the certification paper by anyone. It was never in my possession. Ed Gomes never asked me for that form. How could I have committed a fraud if Ed Gomes, a four-term state senator, didn't do anything about his form? How does that make me responsible for his form so he can be certified for the ballot? He did absolutely nothing."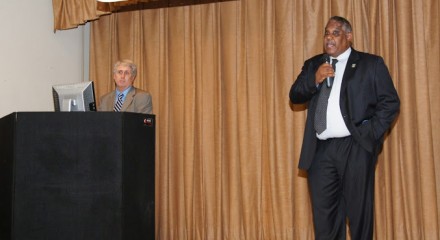 Bellis had harsh words for the local political establishment in general, including former State Senator Ernie Newton who testified in the case, but she reserved her harshest comments for Ford, a seasoned political operative whose testimony under oath she said "intentionally misled" the court. Bellis did not blame Bradley for the filing gaffe. Bradley's lawyer Art Laske said "This is a sad example of allowing a candidate who has an obligation to know the law but doesn't take any steps to follow it to be held accountable for his actions."
Bellis' order gives Connecticut Secretary of State Denise Merrill until Wednesday to approve Gomes' certification form. If Merrill does not acquiesce, the judge's order to place Gomes on the ballot takes effect on Wednesday.
A spokesperson for Merrill says her office will not appeal the decision. "Deadlines are important and we intend to enforce them in the future," Merrill said in a statement. "However, the facts of this case are extraordinary. I believe the voters have been served by the result of this decision."
Gomes was in the courtroom for Bellis' decision issued from the bench. Afterwards he said, "I am happy with the decision. I'm disappointed we had to go through this process. The campaign continues."
Last week, a clearly agitated Bellis ran her hands across her face in exasperation during Ford's testimony. She told Ford he was under oath and must testify truthfully. She even advised him to seek legal counsel. Just a few minutes into his testimony Ford had delivered inconsistent statements about what he knew and didn't regarding his role as chair of the May 23rd endorsement for State Senate in which the candidate he supported, Bradley, won the endorsement and the incumbent Gomes who had sufficient support to qualify for the ballot did not as a result of a paperwork glitch because Ford eventually claimed he did not know the rules.
Bellis ruled, however, the paperwork was forwarded to Ford by state party officials and he had a duty to present it to Gomes.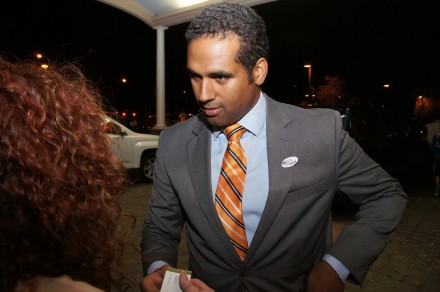 Ford had testified as the chair of the Democratic nominating convention for State Senate, he had not read up on the party rules that a candidate who receives 15 percent of the support qualifying for the ballot must fill out a certification form signed by either the chair or the secretary of the convention.
Ford was called to the stand by former federal prosecutor Christopher Mattei, a lawyer with Koskoff, Koskoff & Bieder representing Gomes, who spent years prosecuting public corruption cases, including a federal campaign finance case against former Governor John Rowland.
Mattei questioned Ford aggressively about what he knew and when he knew it. Ford had not delivered all the documents he was required in response to a court-ordered subpoena.
The Democratic State Central Committee sets the calendar and chooses temporary convention chairs for endorsements in multi-town districts. Former State Senator Ernie Newton, a Gomes supporter, was named temporary chair by virtue of his standing as a member of the Democratic State Central Committee. Ford was then named convention chair by delegates irrespective of his support for Bradley.
Under questioning by Mattei, Ford said he understood an endorsed candidate had to fill out a consent form but was unaware that a candidate who had received 15 percent of the support to qualify for the ballot also had to fill out a form. Ford admitted he had provided the paperwork to Bradley.
Mattei hammered home the point, after establishing that Ford was a Bradley supporter, that he had provided the paperwork to Bradley but not to Gomes.
Newton had forwarded the necessary paperwork to Ford in an email but the judge ruled that Ford showed "willful misconduct" in not presenting the paperwork to Gomes. Ford says the email did not include a paperwork attachment.
Mattei issued this statement: "The court found that Ralph Ford and Ernest Newton engaged in a coordinated effort to violate the rules of the Connecticut Democratic Party and state law in order to keep Sen. Gomes off the ballot and to deprive Bridgeport Democrats of any choice in the upcoming primary. We weren't going to stand for that and neither was the Court."