Two months from a Democratic mayoral primary, challenger Mary-Jane Foster has pulled to within seven points of Mayor Bill Finch in the latest public opinion poll of likely voters conducted by OIB.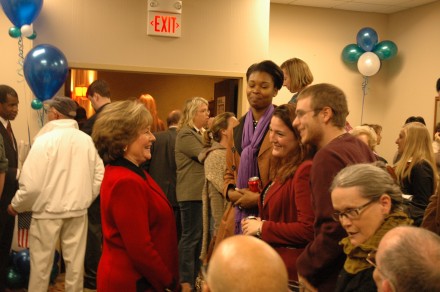 OIB commissioned the Merriman River Group to screen 565 likely Democratic primary voters. Finch leads Foster, co-founder of the Bridgeport Bluefish baseball team, 41 percent to 34 percent in a head-to-head matchup with the remaining percentage unsure or preferring another candidate. Finch led Foster 45 to 30 percent in the prior OIB poll conducted in May. Two other announced Democrats in the field, former Finch administration official John Gomes and multi-mayoral candidate Charlie Coviello, have yet to resonate with voters. Finch leads Gomes 48 percent to 22 percent while Finch leads Coviello 54 percent to 14 percent.
Finch appears to be getting some blowback, but not dramatic, from the announcement last week that the state has assumed control of the Bridgeport public school system. Education moved up a notch in this sampling as a key issue among voters, but still lags property taxes as the major issue. The OIB poll was conducted July 6 and 7, at the height of the education takeover announcement. The sampling also was taken just days after voters received their property tax bills that included no tax increase. By a 53 to 25 percent margin Democrats responded they think the city is headed in the wrong direction. This creates opportunities for opponents.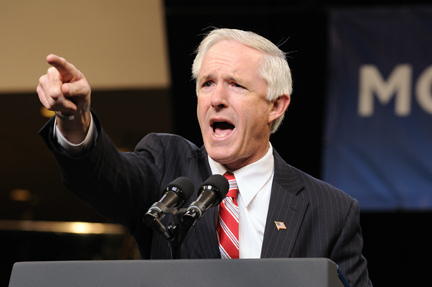 What does this all mean? Foster has gained traction by blistering Finch's promises as a candidate–in a heavy paid radio campaign and news releases–particularly his pledge in 2007 to cut taxes $600. Property taxes is the biggest concern among voters. She has also criticized Finch's handling of city finances and education. In order to close the gap she must contrast what Finch has done with what she will do as mayor, particularly in the areas of schools and job creation, another key issue among voters. Finch is a well financed incumbent and if his handlers see Foster as a threat look for a lot of return fire from the Finch camp in areas they see Foster as vulnerable, such as her former ownership in the Bridgeport Bluefish and disconnect from a majority of the city as a resident of upscale Black Rock. Also look for Finch in the coming weeks to hammer home to voters why state control of schools is a reform measure and not a failure.
Foster runs closest to Finch in all demographic areas among current primary challengers. Why haven't Gomes and Coviello resonated? It's tough to compete when you don't have money. Movement for both of them has been marginal since the last OIB poll. They are still factors in the race because polling shows they are taking votes away from Foster. More on that coming in a follow-up post.
Merriman River has conducted public opinion polls for OIB since 2009. It was the only pollster to call Dan Malloy's gubernatorial primary win over Ned Lamont. It also called the gubernatorial race between Malloy and his Republican opponent Tom Foley a dead heat in the days before the 2010 general election. The Merriman poll has a margin of error of four points.
Next: What happens in a big field? And the Joe Ganim factor. The results may surprise you.