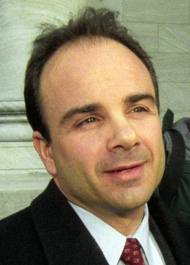 Former Mayor Joe Ganim's not even officially in the race for his old job. He hasn't served in office in more than eight years. He spent six years in the joint following his conviction on corruption charges. And yet he leads slightly in both a head-to-head matchup against Mayor Bill Finch and increases that lead in a large potential Democratic primary field in a public opinion poll conducted by OIB. Ganim's been acting somewhat like a candidate, but it appears, according to political operatives, Ganim's leading toward an independent candidacy if he gets in the action.

OIB commissioned www.merrimanriver.com to screen 565 likely Democratic primary voters for a snapshot of head-to-head matchups of challengers against Mayor Bill Finch and a full field of current candidates. In addition a sampling included Ganim against Finch and as a candidate measured against the current primary field.
In a straight matchup Ganim leads Finch (within the poll's margin of error) by four percentage points, 40 percent to 36 percent with the rest unsure or preferring another candidate. One demographic gulf in this matchup is striking with Ganim securing strong support among African American and Latino voters and Finch equally strong support among those respondents who identified themselves as white. These results validate two previous OIB polls that measured Ganim against Finch. Ganim and Finch run relatively even along gender lines with Ganim performing well among voters who say taxes and jobs are the key issues and Finch among voters placing crime and education among the the top.
The Merriman River poll asked the following question: Among all five of the candidates–Bill Finch, Joe Ganim, Mary-Jane Foster, John Gomes and Charlie Coviello–-who would be your first choice? The response by percentage:
Ganim 35 percent
Finch 28 percent
Foster 17 percent
Gomes 6 percent
Coviello 2 percent
Other 1 percent
Unsure 11 percent
What happens in the current field configuration if Ganim's not in the Democratic primary? This:
Finch 40 percent
Foster 26 percent
Gomes 13 percent
Coviello 4 percent
Other 5 percent
Unsure 12 percent
Finch performs better in the current primary field. Add Ganim to it and it's a different story. In a direct matchup Finch leads Foster by just seven points but expands his lead in a large field. Gomes and Coviello clearly take votes from Foster.
If Ganim's contemplating a primary run the window is closing to build a force of supporters to secure roughly 2,000 signatures among Democratic voters to place his name on the ballot. Democratic Town Chair Mario Testa, who supports Finch, has scheduled July 26 as the night of the Democratic Town Committee endorsement which Finch appears a lock to secure. The next morning challengers can take out petition papers to scour signatures that must be submitted to city election officials in two weeks for review and certification.
If Ganim opts for the general election route as a petitioning candidate he'd need only secure 126 validated signatures to place his name on the ballot. Why is Ganim performing so well in the African American and Latinos communities? They saw progress during his years as mayor, says former State Senator Ernie Newton who's eyeing a political comeback himself after spending time on corruption charges. "People judge Joe by his work not his faults," says the Moses of his peeps. "And when it comes to the criminal justice system it's not justice … it's just us."
What does it say about the mood of the Democratic electorate that Ganim, even though not a candidate, maintains a competitive standing with voters in the current mayoral field?
Merriman River has conducted public opinion polls for OIB since 2009. It was the only pollster to call Dan Malloy's gubernatorial primary win over Ned Lamont. It also called the gubernatorial race between Malloy and his Republican opponent Tom Foley a dead heat in the days before the 2010 general election. The Merriman poll has a margin of error of four points.