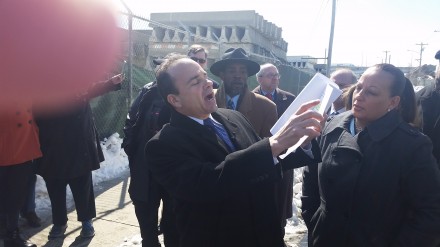 Update: video, news conference. Mayor Joe Ganim, flanked by neighborhood activists and elected officials, hailed Superior Court Judge Dale Radcliffe's order for O&G Industries to "immediately cease and desist from the use and maintenance of a recycling, concrete crushing, storage and stockpiling facility at 1225 Seaview Avenue" in the East End. See court decision here. O&G's blighted plant covers more than five acres of waterfront property.


Radcliffe also ruled that "compliance with the Order to Comply, and this court's decision, is in no way contingent upon any relocation of the O & G operation, or the approval of one or more municipal land use bodies, concerning that relocation."
O&G is seeking to relocate its operation to the West End, spawning the Facebook page No To O&G.
Several members of the neighborhood-led No To O&G, including activists from the East End, West End, South End and Black Rock, were in attendance as Ganim read passages from Radcliffe's ruling at an afternoon news conference next to the blighted property.
The decision stems from O&G appealing a city zoning enforcement officer's citation for running an illegal operation.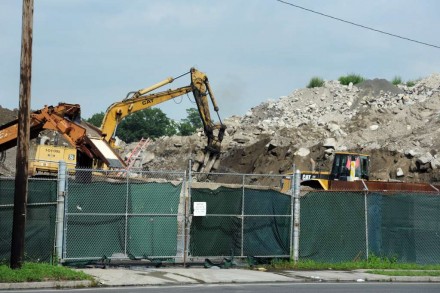 Ganim and city lawyers in attendance said the judge's decision is immediate and if the company doesn't shut down they will seek to hold the company in contempt. They also stated the decision impales the company's leverage to move its facility to the West End.
Ganim described the company as a poor corporate citizen who must clean up its act immediately declaring "It's an affront to the residents of the city, it is a clear violation of the laws … it's gonna stop and it's gonna stop now … they move it or we'll move it and we'll charge them." Ganim suggested Seymour might be a good place.
One by one, Ganim called on activists and city elected officials frustrated by two decades of the eyesore to address the judge's decision. City Councilwoman Eneida Martinez, who represents the East End, praised the judge and city lawyers who defended the city's position. The City Attorney's Office hired the law firm Berchem, Moses & Devlin, a land use specialist, to represent the city in the matter.
Former State Senator Ernie Newton declared "The East End is no longer the dumping ground of the city," adding cleaning up the site will pave the way for other neighborhood improvements.
Others pointed out the facility has been an emotional, physical and health drain on the neighborhood. It is located around the corner from the Steel Point redevelopment area that features Bass Pro Shops as the anchor tenant, with close access to I-95.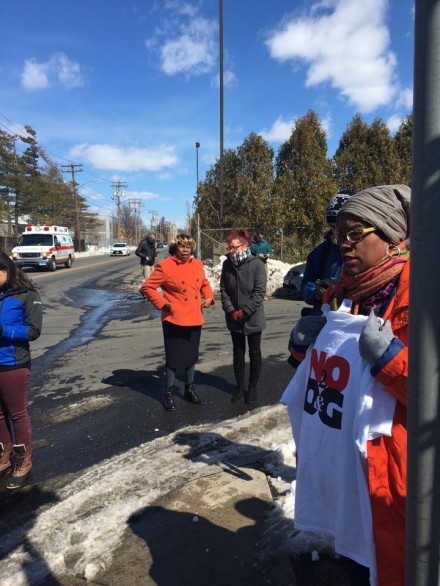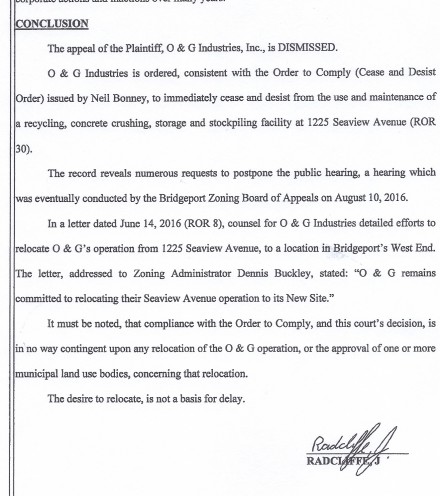 Ganim described the East End facility as Mount Trashmore II, referencing the illegal demolition pile in the East End known as Mount Trashmore that was cleaned up with state assistance during JG1.