Mayor Ganim addresses administration, staff, and #BPT police prior to the swearing-in of Acting Chief of Police Rebeca Garcia.

#Bridgeport #BPTUpdates

Posted by Joe Ganim on Thursday, September 10, 2020
Bagging a police chief is a big deal for federal authorities. It goes straight to the top of an investigator's resume. The charges and FBI agent's account in the criminal complaint against former Chief AJ Perez are damning. See criminal complaint here.
Essentially Perez had an unfair advantage in the 2018 national search to select a top cop that artificially placed him among the top three finalists, the only way he could be selected as chief. He had assistance from senior underlings who are now cooperating with the government including recorded conversations adding meat on the bone of charges.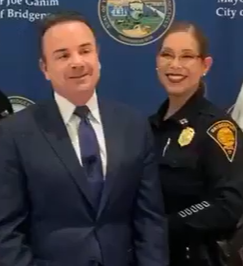 Several other witnesses will corroborate the allegations. Perez and his lawyer will soon pore through all the information the government must disclose to craft a defense in lieu of a plea to lessen the potential damage. Both Perez and Personnel Director David David were also charged with providing false statements to federal authorities during voluntary interviews.
Dunn, who resigned on Friday as personnel director, has a key decision to make at 72 years old. Fight to the end? Plead out and mitigate damage?
Perez, for now, is at the top of the charged food chain.
The city recruited five professionals in the field of police and municipal government to serve on a panel that conducted interviews Oct. 19, 2018 from a list of seven semifinalists. Executive search consultant Randi Frank, who has represented the city in several national searches, assembled the police chief search panel: Hartford Police Chief David Rosado, Yale University Police Chief Ronnell Higgins, municipal human resource official Bernadette Welch, UConn Health Labor Relations Director Caroline Beitman, and former Hartford City Manager Lee Erdmann.
The panel short-listed the search to three: in order New Haven Assistant Chief Luiz Casanova, Perez and Bridgeport Captain Roderick Porter, the highest-ranking African American in the department.
Ganim selected Perez, his long-time friend, whom he had elevated to acting chief in 2016 shortly after Ganim returned to the mayoralty.
Where's Ganim in all of this?
His relationship with Perez became frosty as this federal investigation intensified. Although a nice guy, Perez's tenure as chief was controversial some of which centered on police conduct. Ganim probably has buyer's remorse in selecting him chief.
The federal complaint claims Dunn told someone in the selection process that the mayor wanted Perez in the top three. If true, where did that come from? It didn't come from Ganim directly to Dunn. Nowhere in the complaint does it state a public official applied pressure on Dunn to wire Perez for the top three.
Either way, this story will be around for a while. And who knows what else might shake out as a result.
And how long will it be before the mayor orders another search for a permanent chief?