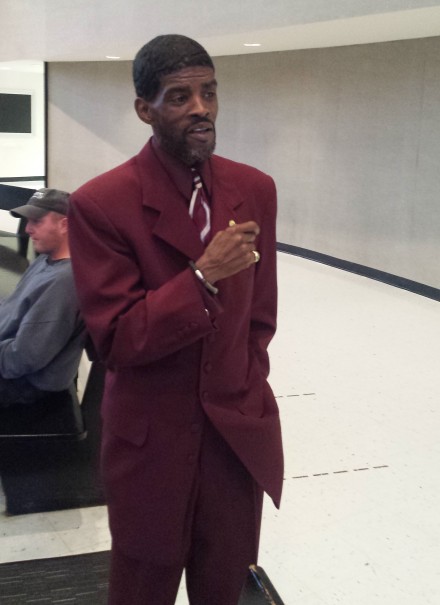 Voter rejection to the state legislature in 2012 and 2014 is not deterring Ernie Newton from considering a 2017 run for City Council where he launched his political career as a young city music teacher in 1981 on his way to becoming head of the legislative body. The self-proclaimed Moses of his people asserts there's a lot of work to do on behalf of his East End constituency.

Newton says he may run, but that depends on the future of James Holloway, the most senior member of the City Council who for years has threatened not to seek reelection. Holloway, a city employee, was first elected in 1991. Eneida Martinez also represents the 139th District on the council.
"There's a lot of work to be done in terms of economic development and jobs," says Newton. "I've been there before and I'm still here on behalf of my people. I'm not going away." He's also critical of what he terms abusive  homeowner foreclosures by the Water Pollution Control for lack of payment.
Newton left the council for a long run in the State House before his election to the State Senate after the death of Alvin Penn in 2003. A federal investigation led to corruption charges and he was sentenced to five years. Returning to Bridgeport he started his plan for a political comeback to public office. Newton finished a close second to Andres Ayala in a 2012 Democratic State Senate primary in which incumbent Ed Gomes was defeated. Gomes reclaimed the seat in a special election when Ayala was appointed commissioner of the Department of Motor Vehicles by Governor Dan Malloy. Ayala resigned shortly after assuming command following a series of organizational gaffes within the department.
It appeared Newton, as the endorsed candidate in 2014, was headed back to the State House when Don Clemons, now the Town Clerk, decided not to seek reelection in the 124th Assembly District. Andre Baker, who served on the City Council and Board of Education, jumped in to primary Newton at the urging of then-Mayor Bill Finch's political organization. Baker won. Newton was facing fallout from the 2012 State Senate primary in which state investigators charged him with violating state campaign finance laws. Newton went to trial, was convicted on one of the lesser charges, and received a six-month sentence. It's currently under appeal.
Since that time Newton has not gone away. He's a member of the Democratic Town Committee and also a member of Democratic State Central Committee that conducts state party business. Last week Newton also joined several African American political figures criticizing the city's rank demotion of Lieutenant Lonnie Blackwell for alleged involvement in the fabrication of a racial Police Department letter. Blackwell refutes the charges.
Newton is also a regular face at City Council meetings.