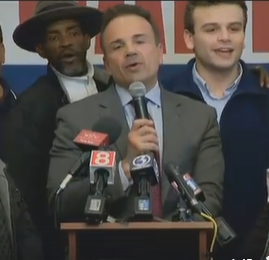 After an election it's always instructive to recline for a one-week breather to assess the results.
East End City Councilman Ernie Newton, where Mayor Joe Ganim won by roughly 3 to 1 on his way to another four-year term, wonders why all those Marilyn Moore Black Rock advocates aren't screaming about absentee ballots.
"How come they're not complaining about absentee ballots now?"
The self-proclaimed Moses of his peeps has a point.
Following the September 10 Democratic primary in which Moore won at the polls to be eclipsed by Ganim's absentee ballot surge, Moore's Black Rock supporters filed a lawsuit contesting the results claiming absentee ballot irregularities. Superior Court Judge Barry Stevens, after a two-week trial, ruled the plaintiffs did not make their case to alter the results. The case is under appeal before the Connecticut Supreme Court.
To Newton's way of thinking if you really care about fair elections why is it people only complain when absentee ballots make a difference in a tight outcome. Absentee ballots, he asserts, are just as important as in-person votes.
Moore's Black Rock supporters from Bridgeport Generation Now who brought the primary lawsuit have not said a peep about absentee ballots after their candidate was defeated handily in the general election. Do absentee ballots become a convenient marketing monster only in close races?
Newton notes Ganim only had about 60 more absentee ballots in the general election versus the primary.
After all, Newton points out, Moore won only in Black Rock, that higher educated, waterfront hamlet that features degrees from Yale, Harvard, Princeton, Columbia, et al. They seem to be smarter than most, right?
Sometimes a degree in jail is better than Yale. When it comes to politics, anyway.
Says Newton, "Maybe the rest of the city is smarter than Black Rock."