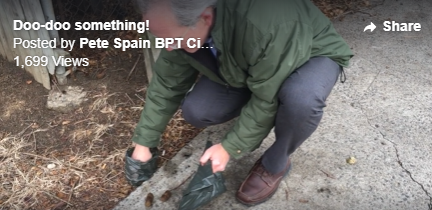 UPDATE: Pete Spain flushed his Facebook video from public view.
Black Rock City Councilman Pete Spain has listed a litany of accomplishments in the OIB comments section as he goes out the door following one two-year term. Pete claims this was not newsworthy irrespective of him posting the video on his Facebook page.
We like this sort of thing on OIB, a Yale graduate lecturing the correct way for folks to dispose of dog poop along St. Mary's, in the city's highest-assessed area lined with million-dollar waterfront homes. So instructive. Check out his line about "comprehension." Fitting for a Yale man.
Come Nov. 30 Pete will leave the City Council. We're thinking about a new role for Pete the Poopslayer, an adjunct professorship at Yale titled Royal Flush.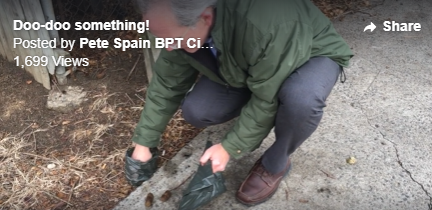 In case you missed it, here's a post from January 2018
Where's Mr. Rogers' Neighborhood when you need him? You gotta hand it to City Councilman Pete Spain, he doesn't waste for letting you know what's on his mind. One of Pete's pet peeves in his district, residents who don't pick up the dog poop. Pete demonstrates in the video above from his Facebook page. Pete's adding new meaning to waste management.
St. Mary's by the Sea walk: I had to pick up someone else's mess with a "Mutt Mitt" today. Going beyond the call of doo-doo for a violation of ordinance (corrected) 6.04.040–Allowing pet to defecate on public property unlawful, penalty $150. When #Bridgeport Public Facilities and Parks goes the extra mile and puts out free "Mutt Mitts," there's no excuse not to clean up after your dog. (Corrected) I'll look into whether repeat offenses in same year can be fined double or more–and adding more signs that we don't appreciate dog poop left in our public spaces.