Lots of trepidation in the Connecticut Post newsroom. On Friday the paper cut loose Business Editor Pam Dawkins, reporter Aaron Leo and tech editor Todd Hollis (who only recently learned how to become a book editor) among 44 layoffs impacting Hearst-owned papers in Bridgeport, Greenwich, Stamford and Danbury.
Greenwich, Stamford and Danbury pubs took the biggest hit in the latest round of layoffs. The larger issue in the Bridgeport newsroom is what will come down the road as a Hearst letter to employees announced another round of 80 layoffs on the horizon. It sucks to report and write with the layoff guillotine poised. Hearst owns a juicy triangle of papers in the wealthiest county in the country with a bottom line to prioritize in a languishing print media industry.
The days of family-owned and -operated print media are over, and management in charge is all about head over heart. The assimilation process among all the Hearst rags is well underway, just a matter of time before there's one central paper with four different front pages.
What scribes remain for core city coverage in the Post newsroom? Veteran reporter Bill Cummings and impressive young scribe Keila Torres head the city hall coverage. Linda Conner Lambeck does a nice job covering education. MariAn Gail Brown, one of the paper's strongest writers, floats between city and regional stories. Mike Mayko and Dan Tepfer know the federal and state courts respectively as well as any in the state. Ken Dixon, arguably the paper's strongest all-around journalist, covers lawmakers in Hartford. Other valued veteran scribes such as Tony Spinelli are running around doing a bunch of things.
The Post does not cover local politics regularly, a shame for Bridgeport readers but a plus for little ol' me. Covering city hall does not mean you're covering politics. They're two different animals. In Bridgeport, politics drives the government. That's not such a bad thing; depends on the judgment and ability of city decision makers. But where scrutiny lacks, opportunities exist for politicians.
OIB has built a nice little audience with new visitors each week, because the niche here focuses on politics and government, with an advocacy for all things the city. But I know if you think OIB sucks you will not return. No visitors, no platform, no webzine. So thank you for prying open the juicy stuff.
Speaking of juice … Secretary of State and Democratic gubernatorial candidate Susan Bysiewicz will invade Central High School today with WWE wrestlers Beth Phoenix and Kofi Kingston for Smack Down Your Vote, an effort to encourage students to register to vote, as part of a nationwide partnership with Nation Association of Secretaries of States.
Now, can you imagine madam secretary SuBy challenging Beth Phoenix to a no-holds-barred steel cage match? Sounds like something relentless campaigner SuBy would do. Me, I'd rather see a three-way cage match with her guber rivals Stamford Mayor Dan Malloy and former House Speaker Jim Amann. Let the eye-gouging (and wagering) begin.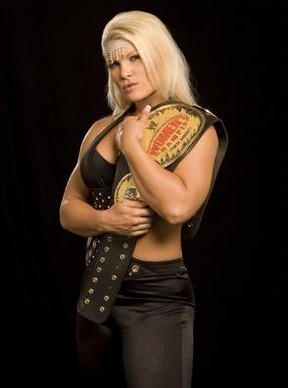 Would you mess with this?
Speaking of wrestling …
Big week for the City Council's Budget and Appropriations Committee to reviews budgets for police, economic development, and including the magilla public hearing for the combined city and Board of Education budget Wednesday 6 p.m. in council chambers on Lyon Terrace. Wonder how packed the BOE hearing will be? See schedule below:
· Monday, April 27, 6:00 pm, Wheeler Rooms A and B
Police Department
· Wednesday, April 29, 6:00 pm, City Council Chambers
Public Hearing BOE / City Budget
· Thursday, April 30, 6:30 pm, Wheeler Rooms A and B
OPED – All Divisions
· Friday, May 1, 6:00 pm, Wheeler Rooms A and B
CAO / OPM and Budget Overview
· Saturday, May 2, 11:00 am, Legislative Services Office
Budget Overview / Capital Vote
News release from Jim Himes
Himes Welcomes Bridgeport Close Up Students to Washington

Hands-on program gives at-risk students opportunity to understand government from hands-on experience

Washington, DC – Congressman Jim Himes welcomed Bridgeport students participating in Close Up's See Government in Action program to Washington this past week. The students spent the week as part of Close Up's "living classroom," getting a hands-on look at how government works.

"It is an honor to be chosen to be in this program. I came in not knowing anyone, and now I'm meeting people from across the country who can share many sides to an argument. At the same time you get explore the beautiful city of Washington D.C., you have the chance to learn about politics. You may enter not know anything, and you come back home with a whole new experience to share," said Alexia Trujillo student from Central High school in Bridgeport.

The students met with Congressman Himes in the Capitol, where they were able to discuss with him their priorities as young adults facing the challenges of education and what to do when they graduate. Many are involved in ABCD's after school programs.

"I hope our students at the end of the program finish inspired to participate in our democracy , well informed , empowered, and engaged," said Felipe Reinoso, founder of Close Up's See Government in Action program. "I'm grateful to our leadership at the local, state and national levels that where part of the training and the support of the Bridgeport Public Schools, Bridge Academy, and ABCD."

Formed in 1971, Close Up is a nonprofit that exists to educate and inspire young people to participate in the democratic process. Close Up aims to fulfill their mission with exciting, hands-on programs for students and teachers in Washington. Using the city as a living classroom, students have unique access to the people, processes and places that make up the nation's capital.

"Seeing first-hand, the amazing times we're living in gives students insight into the working and political world like no text book can," said Congressman Himes. "I applaud this program and its new alumni for taking action to learn about their government."

"Wow! I would have never believe that our government can be so interesting and fun," said Tykeem Elliott, student of Bridge Academy in Bridgeport.