The hiring of Mary-Jane Foster as vice president for university relations at the University of Bridgeport places an emphasis on relations, one in particular, that could favorably reconnect UB with the mayor's office.
UB has made a dramatic comeback from 1992 when it was broke, in need of financial assistance and on the verge of closing, with its anchoring law school fleeing to Quinnipiac. University officials turned to the Professors World Peace Academy, affiliated with Sun Myung Moon's Unification Church, for a financial infusion.
Moon's cult reputation didn't sit well with some in the community, including new City Councilman Bill Finch. New mayor Joe Ganim was dealing with a hornets' nest full of problems, including a bankruptcy filing by his predecessor, the New England banking crisis that took down Citytrust and Mechanics & Farmers, the highest crime rate in the city's history and the law school that he attended saying sayonara to the city.
It seemed to Ganim, me too as his chief staffer, that it was much better to save UB than having a bunch of boarded-up buildings in the South End.
Still, some were suspicious of the World Peace Academy's financial bailout for UB in exchange for some board appointments. Finch, in particular, was on a one-man jihad against UB. Finch has a stubborn streak that can be both good and troublesome. Those were the days when Bill was a liberal's liberal. He's moderated his views somewhat as a result of the practicalities of being mayor.
They were also the days when I was Bill's closest political adviser and, at just about any opportunity to froth about the UB thing, Bill heaved like a fire-breathing dragon. And he could be noisy too. "Lennie, you don't understand what these people will do to kids!"
Okay, okay, I'd say but Jesus, Bill, do we have to talk about cults, the Moonies and this and that all the time? He drove me nuts. Every time he'd bring it up, I'd change the subject. Let's talk about getting you elected to something other than City Council!
UB has made a lot of progress these past several years under President Neil Salonen, and the Moon reputation the university had developed in some circles was allayed. Enrollment is up, the engineering school is hopping, the campus is safe. New hires such as George Estrada, who served as director of Public Facilities for the city, are giving the school a brighter face.
I've spoken to students at UB Professor Sue Katz' communications classes. Many of them are city kids, some from the suburbs, some from overseas, all of them just like any other college kid studying, sleeping, working, dreaming about career possibilities.
UB is a good school with good people running it. The thing that Mary-Jane Foster can do arguably better than anyone else is persuade Finch to reexamine his feelings about UB. The city needs to be part of UB again and UB part of the city. Mary-Jane, co-founder of the Bridgeport Bluefish, can serve as a credible bridge between the UB community and Finch. Foster supported his mayoral campaign and there's a mutual respect.
The mayor has become more pragmatic on the job in the past six months. I hope his position about UB reflects that.
See news release from UB below:
University of Bridgeport appoints community leader as vice president

The University of Bridgeport today announced the appointment of Mary-Jane Foster, a prominent businesswoman and community leader, as vice president for university relations.

The announcement was made by UB President Neil Albert Salonen, who said Foster brings to the position "her knowledge of the region and wide acquaintance with the leaders of the Greater Bridgeport community. She will share with them the great gains the university has made and involve them in our goals.

"We are a university built with a strong commitment to this city and region," Salonen said. "I know that Ms. Foster will affirm those ties and help make them even stronger."

The president said Foster already had a strong foothold in the university, having attended the law school before it moved to Quinnipiac.

"I look forward to joining the university," Foster said. "UB means so much to this city and region. Its strong growth, the educational opportunities it provides, and the economic impact and vitality it brings are precious assets all of us want to support."

At UB, Foster's responsibilities will include development, and alumni, community, government and media relations.

Foster is an attorney and principal in the investment firms of Black Rock Investors LLC and Westchester Baseball LLC. She is also well known as the co-founder and co-owner as well as CEO of the Bridgeport Bluefish Professional Baseball Club that plays its games in the Ballpark at Harbor Yard. She sold the team after last season. During her time there she was a tireless promoter of the team's civic commitment and all that it brought to Bridgeport's revival.

Always involved in the community, Foster was a director and former president of the board for The Center for Women and Families (the former YWCA of Eastern Fairfield County). She is certified in domestic violence services, was a volunteer court advocate for victims, and served on the Mayor's Commission Against Violence in the Home.

Foster has won many honors for her volunteer efforts including YWCA Volunteer of the Year, the Philip Morris Companies Doors of Hope Outstanding Volunteer Award for her efforts to curb domestic violence, the United Way Community Builder Award, the Arthritis Foundation's Woman in Motion award, and the Connecticut Post's Woman of the Year in 2003.

An honors graduate of Quinnipiac University School of Law, she also serves on the university's board of trustees. She holds the honor there of also being in the university's Business Leader Hall of Fame.

Foster is co-chair of the United Way of Eastern Fairfield County's Success by Six early childhood initiative. She is on boards of the Hudson Valley Bank, Fairfield County Community Foundation, and the Fairfield County Teach for America.

Before attending law school, Foster was an actress in New York, performing on stage and in film, television and radio. She appeared in more than 200 television and radio commercials.

Foster lives in Bridgeport with her husband, Jack McGregor, a lawyer and former president of the Aquarion Water Co.
Get In With Jim
If you want to catch up to Congressman Jim Himes he'll be hosting community coffee hours on Saturday afternoon from 3:30 to 5:30 at the Port Coffeehouse, 2889 Fairfield Avenue. Stop in, say hello, voice concerns.
News From The Zoo. What Pols Do They Resemble?
Connecticut's Own "Octomom" Gives Birth … to Piglets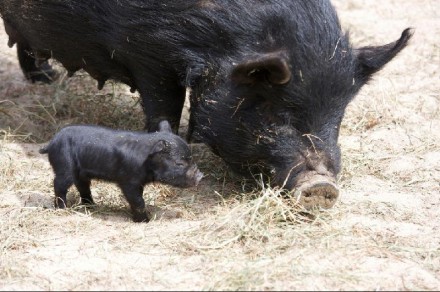 Connecticut's Beardsley Zoo, the state's only Zoo, welcomed the birth of eight Guinea Hog piglets on April 16, 2009. Mom and dad are two Guinea Hogs currently on exhibit at the Zoo – named Olivia and Hamton J. Pig. Visitors are invited to come to the Zoo to meet the eight new additions to the Zoo's family.

"Unlike the original "Octomom," our Olivia looks nothing like Angelina Jolie," joked Zoo director, Gregg Dancho. "Mom and her entire litter are healthy and doing well."

The piglets range in weight from just under one pound to two pounds. When fully grown, Guinea Hogs may reach 100 to 300 pounds. They also are known as Pineywoods Guinea, Acorn eater, Guinea Forest hog, and Yard pig. According to the American Livestock Breeds Conservancy (ALBC), the hogs were once the most numerous pig breed found on farms in the Southeast but today there are fewer than 200. Guinea hogs are classified as critical (versus endangered) by ALBC and are unique to the United States.

The Zoo exhibits the guinea hogs in the New England Farmyard. The Zoo's one male and two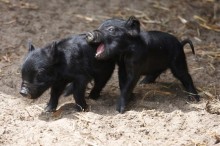 female guinea hogs came from Sedgwick County Zoo in Wichita and Virginia Zoo (respectively). The other female, Jodie, also is expecting.

Connecticut's Beardsley Zoo is open daily from 9:00 am to 4:00 pm. Adult admission (ages 12 & older) is $11.00, children (ages 3 -11) and senior admission (62 and older) is just $9.00, and children under 3 years old are free. Members of the Connecticut Zoological Society also are admitted free. Parking at the Zoo is free of charge.