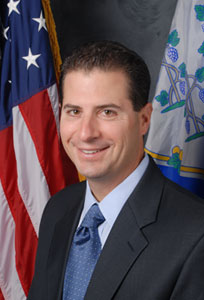 He was brought in under the mayoral administration of Bill Finch, then drew the ire of the city's police union when he cracked down on overtime that contributed to his departure after Joe Ganim regained the mayoralty. Now former Assistant Chief James Nardozzi finds himself among seven finalists for the top cop position currently held in an acting capacity by A.J. Perez.

OIB chronicled Nardozzi's efforts to cut overtime by millions of dollars against the wishes of police rank and file. Nardozzi hit the pocketbook of cops who supported Ganim's comeback campaign by millions of dollars. That charge, among others, was part of a state lawsuit that Nardozzi brought against the city and the Civil Service Commission last year for an unlawful termination without a hearing for cause. Nardozzi, as second in command of the department, was earning $123,440 when let go in January of 2016. See legal complaint here.
The lawsuit cites the City Charter which specifies that a termination must accompany a hearing before the Civil Service Commission. A hearing for cause did not occur. As a result the commission violated a term of the contractual relationship with Nardozzi, according to the complaint.
One former veteran member of the Police Department who did not want to be identified says "Nardozzi did an excellent job reducing overtime. He would not allow people to take advantage of the system."
In the complaint Nardozzi's lawyer claims Ganim acquiesced to the wishes of the police union: we'll support you for your election but Nardozzi and Joe Gaudett as police chief must go. Nardozzi was terminated for "political reasons." The police union was angry with Nardozzi, according to the complaint, because Nardozzi "enacted a plan, at the command of then Mayor Bill Finch" to reduce overtime expenditures. Nardozzi slashed overtime in one year from $8 million to $4.3 million and to the point that a $900,000 surplus existed for the 2014 budget year, according to the complaint.
OIB has confirmed that Nardozzi is among seven finalists.
"I did apply," Nardozzi, whose position was cut in January 2016 by then-newly elected Mayor Joe Ganim, confirmed Tuesday. "I have no ill will toward the city. I loved working for the Bridgeport Police Department."

The Ganim administration began a nationwide search for a permanent chief in March and as of recently had narrowed a list of 16 candidates down to seven.

… the seven remaining contenders are supposed to meet in the coming weeks with a selection committee created by the city's Civil Service Office. That committee, whose members' names are being kept secret, will forward three finalists to Ganim, who will then choose one to receive a five-year contract.
Under the City Charter, in a provision approved by voters, a police chief can receive up to two, five-year contracts. In the last days of his administration Finch appointed Joe Gaudett to a second term. When he took office Ganim, in lieu of buying out Gaudett's pricey contract, hammered out a police consulting agreement that continues to pay Gaudett in a different capacity. It opened up the chief's job for Ganim's long-time friend Perez in an acting position.
Given the police union leadership enmity toward Gaudett, as Ganim enters into his reelection year in 2019, it would be a dramatic turn of events for Ganim to pick Nardozzi if he's short listed to three by the committee. That's a big if.