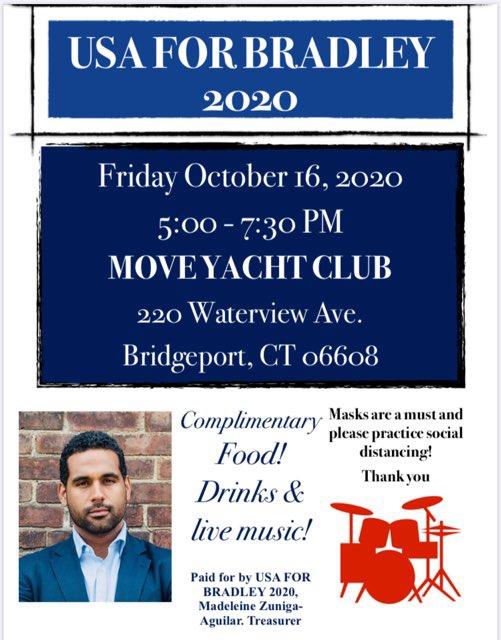 State Senator Dennis Bradley knows how to throw a party, some that can get him into hot water and poise the attention of state and federal law enforcement officials.
Reassured of reelection in three weeks–campaign life can be lonely for Republican challenger Josiah Israel, outflanked by party affiliation 15 to 1–Bradley is throwing a "USA for Bradley 2020" campaign party in advance on Friday with free food, drinks and live music.
Work hard, play hard, party hard. That's just the way Bradley likes it. Come 2021 Bradley will find out if a federal investigation proves to be just a toothache or a life-altering extraction.
Bradley fancies himself an attention-junkie showman who can morph into character with a simple turn of his flashy Maserati. It can draw attention.
His campaign finance report shows his candidate committee raised just $270, for the latest quarter filing, from a single donation that of East End District Leader Ralph Ford. Bradley can use his own money to finance the party, but it was a law-firm financed campaign party a few years ago that jabbed the attention of federal authorities to look into his campaign and business dealings.
For Bradley, it started with frivolity March 15, 2018 as an Ides of March campaign event at Dolphin's Cove in the East End formalizing his announcement that led to election to the State Senate.
Bradley noted in a media advance, "the day marked by history as Caesar's pride and destruction will mark Bridgeport's humbleness and rebirth. For God will take the stone that was discarded and use it as His cornerstone … Bringing the classics back to Bridgeport politics. It's about time we raise the bar."
The State Elections Enforcement Commission ruled that Bradley had raised the bar in more ways than one, violating state law by leveraging roughly $10,000 in law firm funds to finance his election, including free drinks and food at Dolphin's Cove. It led to the watchdog agency rejecting his application for a general election grant under the state's Citizens Election Program of publicly funded races.
Even his named campaign committee, "Attorney Dennis Bradley for State Senate" left residual reminders: is he promoting his profession, his political career, both? What is the purpose of mixing your profession with your run for public office in the same filing?
Prior to the Covid outbreak the federal government impaneled a grand jury in New Haven that heard from witnesses associated with his 2018 run for state office including expenses financed by his law firm, donations made and where the money leads. There's more to this story that the feds are looking at regarding his law firm, political business dealings.
Some of the federal investigators looking at Bradley are the same who secured recent guilty verdicts from former Chief AJ Perez and ex Personnel Director David Dunn for rigging the top cop test in 2018.
Having fun yet?