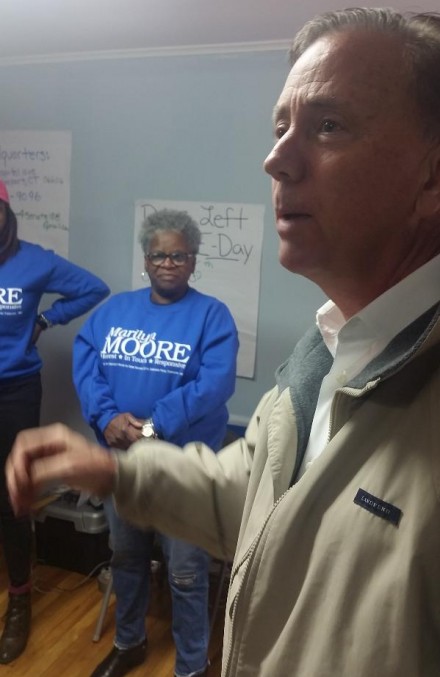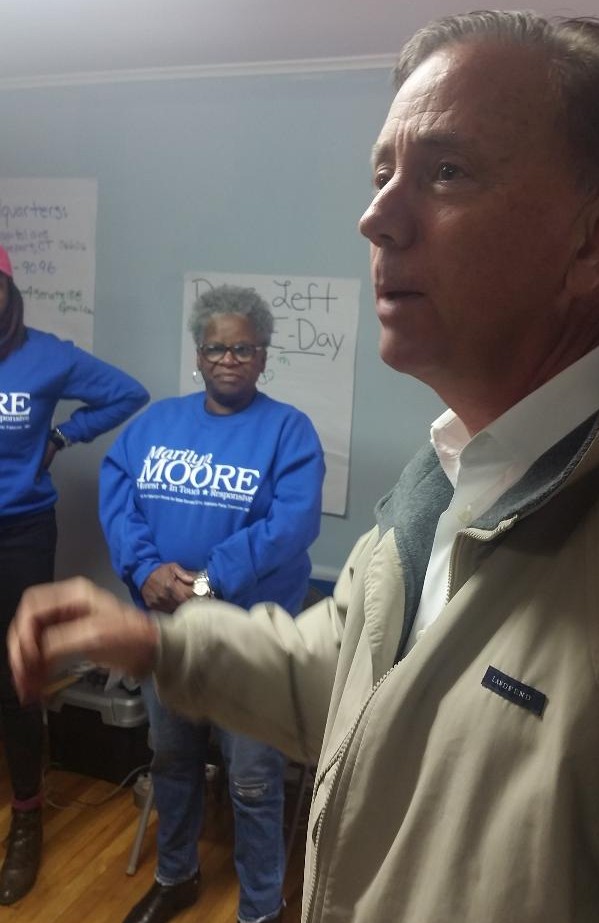 Ned Lamont spent Saturday morning in Bridgeport schmoozing city ministers for support, rallying campaign canvassers to churn out a vote and heralding his friend Marilyn Moore's return to the State Senate currently locked in an 18 tie among Democrats and Republicans with control of the upper chamber as well as an open seat for governor on the line Nov. 6. Lamont and Moore have built a political alliance strong enough that the Democratic nominee for governor asked her to join his ticket before working out a lieutenant governor partnership with former foe Susan Bysiewicz. Moore faces a contested race from Republican Rich Deecken, a Bassick High School teacher, in the multi-town district. She urged canvassers to take nothing for granted given the capricious political environment.

With about three weeks left to election day and Lamont facing what appears to be a competitive race from Republican Bob Stefanowsi, the message was identify the vote and bring it home. Lamont is focused on unaffiliated voters that swing statewide races in Connecticut while galvanizing urban voters in heavily Democratic cities such as Bridgeport, New Haven and Hartford. He wants a Democratic legislature and allies such as Moore returned. And Moore wants Lamont as governor.
"It doesn't do us any good with a Republican governor that vetoes everything we do," Moore told a couple of dozen canvassers Saturday morning at a Democratic headquarters on Capitol Avenue as they prepared to door-knock neighborhoods. "Ned understands business, unions and working families … women's rights are on the line."
Since defeating incumbent Democrat Anthony Musto in a primary four years ago, Moore's profile has grown as she navigates the disparate needs of her Bridgeport and suburban constituency. She is co-chair of the Children and Human Services Committee. She is also Senate Democratic co-chair of the General Assembly's Bonding Subcommittee where she employs influence over where state dollars are invested.
If Lamont wins, and she's eager for a state commissionership, she'd be the type at the top of the list. But what if the State Senate is locked in an 18 tie again? If she wins reelection and vacates her office that means a special election to fill it.
Right now Moore's not interested in the what-ifs. Win and see how it plays out.
She also knows she's not a favorite of Democratic Town Chair Mario Testa, an old-schooler who's into that "respect" thing. Moore does not suck up to some of the local party leaders like Testa, preferring an independent-minded profile. As a result, some party regulars are running a stealth Dems for Deecken campaign in Bridgeport. For Moore ally Ed Gomes, who is retiring from his State Senate seat, it's not surreptitious at all. At 82 years old the political warhorse tells you exactly how he feels. If he likes you he tells you, if he doesn't like you he'll let you know, and in your face.
"I don't like some of the people in this party," he said Saturday morning. "Marilyn does what's right."
Meanwhile, with just weeks left, it's all now about identifying friends and dragging them out in a political world where "friends" can be termed relative.