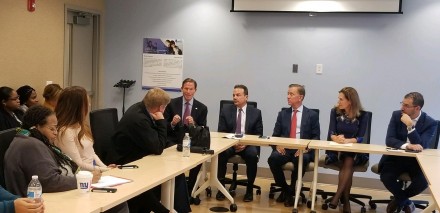 Mayor Joe Ganim on Monday joined U.S. Senator Richard Blumenthal and Ned Lamont and Susan Bysiewicz, Democratic nominees for governor and lieutenant governor, at a round-table discussion on health care at the Southwest Community Health Center in Bridgeport. Lamont and Bysiewicz also unveiled their plan calling for affordable health care for all Connecticut residents.

News release from Lamont:
They were joined at health care forums in Bridgeport and New Haven by Andy Slavitt, who helped turn around healthcare.gov and served as the acting administrator of the Centers for Medicare & Medicaid Services under former President Barack Obama, where he oversaw a third of Americans' health care and a quarter of the federal budget.

Their agenda would defend protections in the Affordable Care Act, protect patients' rights and finances, lower the price of prescription drugs, improve the individual market, deliver value and protect care under Medicaid and the state employee health care plan, and invest in public health.

That plan stands in stark contrast to the Stefanowski-Markley ticket. Republican opponent Bob Stefanowski does not support the ACA, which he erroneously claims has not benefited a single Connecticut resident. Joe Markley–who, if elected, would break any ties in the State Senate–was one of only two votes in the Senate against guaranteeing essential Obamacare protections in Connecticut law.

Stefanowski's "A" grade for President Trump is an "A" grade for bankrupting people with pre-existing conditions, exempting contraceptives from insurance coverage, peddling short-term plans condemned by patient organizations, filing lawsuits against the ACA, cutting billions from Medicaid and Medicare, and providing tens of billions of dollars in tax breaks for pharmaceutical companies whose profits are soaring as people in Connecticut are paying more for drugs and health coverage.

Stefanowski has a scheme to give pharmaceutical companies another gigantic tax break, but no plan to protect Connecticut from those radical Republican policies. If the next governor does not act, junk plans will saturate Connecticut's insurance market. Women and people over 50 may be charged up to five times the premiums faced by everyone else. The open enrollment period will shrink, and everyone's health care prices will rise.

The struggle to expand Medicaid in other states demonstrates the stark consequences governors' choices have on people's health and finances. Lamont and Bysiewicz understand the hardships families and small businesses are facing and have a plan to tackle those challenges head-on while reducing the state's deficit.

"Everyone deserves access to quality health care–plain and simple. As a business owner, I knew one of the keys to my company's success was providing my employees with the health care they and their families needed to thrive. This is ultimately a moral issue, and it speaks to who we are and what we believe as a state. That's why we need to keep fighting for quality, affordable coverage," Lamont said.

Connecticut was the first state to expand Medicaid under President Obama. More than 200,000 people in Connecticut received meaningful access to health care–many for the first time in their lives.

"Obamacare has protected more than 1.9 million residents with employer-sponsored insurance and nearly halved the number of uninsured people under 65. As governor and lieutenant governor, Ned and I will build on these efforts to ensure everyone has access to quality, affordable health insurance. Providing quality, affordable care is core to Connecticut's values–and critical to economic growth," Bysiewicz said.

State residents pay more for prescriptions in Connecticut than any other state but Delaware, and prices increase faster here than anywhere else. This has meant billions of dollars in unaffordable and unsustainable costs for working families, senior citizens and taxpayers.

As governor and lieutenant governor, Lamont and Bysiewicz will demand meaningful transparency from pharmaceutical companies and pharmacy benefit managers, harness the purchasing power of the state to drive better bargains for taxpayers while preserving patients' access to medication, and strengthen Connecticut's leading drug-price transparency law. Together, those measures could save Connecticut residents more than $1.3 billion and reduce the deficit by more than $81 million annually.

"Turning Connecticut around means understanding health care isn't only a cost to our families, but also an important sector of our economy. With a growing number of world-class medical and public health schools, a billion-dollar medical device startup in Guilford, and a vibrant insurance cluster in Hartford, Connecticut is poised to be an important global innovator in health care, biotechnology and insurtech. Our plan to resolve the budget crisis, reduce taxes and redouble job growth will make Connecticut a more attractive place for the nurses, doctors and other health care providers who keep all of us healthy," Lamont said.