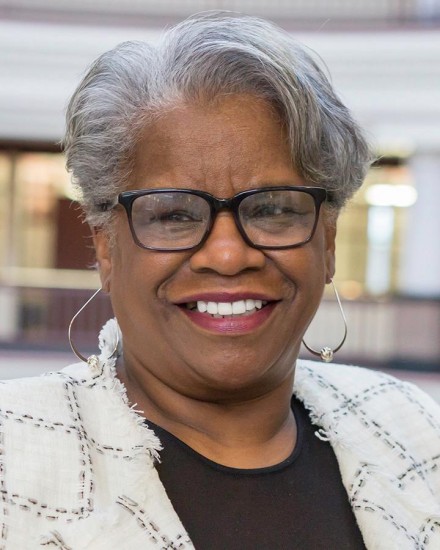 Mother, grandmother, state senator, health care advocate, warring against hunger, Marilyn Moore is building a profile of notice politically, professionally and socially. Add "100 Most Influential Blacks in Connecticut" to the list, a designation by the Connecticut Chapter of the National Association for the Advancement of Colored People.

From the NAACP:
"The NAACP has always been at the forefront of fighting for equity and justice for all Americans. Its mission to ensure the political, educational, social, and economic equality of rights of all people and to eliminate race-based discrimination is something I strive for every day as a state senator and as a member of my community," Sen. Moore said. "To be recognized by them is a true honor."

Sen. Moore was first elected in 2014 to serve the 22nd State Senatorial District communities of Trumbull, Bridgeport and Monroe. She was elected to a second term in 2016. She is currently the co-chair of the Children and Human Services committees. Her work in the legislature also earned her the appointment of Senate Democratic Co-chair of the General Assembly's Bonding Subcommittee in April 2018.

As a lifelong Bridgeport resident and community activist, Sen. Moore has been a force in advocating for health equity, living wage, and legislation that supports and protects Connecticut communities. Recognizing the rapid increase in morbidity and mortality rates among low income minority women with breast cancer, Sen. Moore founded and became President and CEO of The Witness Project, which seeks to address and reduce breast cancer mortality.

In addition, Sen. Moore has tackled the war against hunger by serving and being a member of several boards in Connecticut, including, End Hunger CT, Network Support Team Connecticut Food Systems Alliance, and the Food Solutions New England Coalition.

As a result of her unwavering passion and dedication to fighting for food and health equity in Connecticut, the City of Bridgeport has formed the Food Policy Council, which integrates all agencies of the city in a common effort to improve the availability of safe and nutritious food at reasonable prices for all residents, particularly those in need.

Sen. Moore's accomplishments in improving the quality of life for Connecticut residents have earned her local and national acclaim over the past ten years, including being awarded the Sojourner Truth Award by the National Association of Negro Business and Professional Women's Club, the 2018 Shirley Chisholm Award by the National Congress of Black Women, and the Community Service Award by the Coalition of 100 Black Women Connecticut Chapter.

Sen. Moore was also named a 2018 "Children's Champions" by The Connecticut Early Childhood Alliance for her work as co-chair of the General Assembly's Committee on Children.

By working in diverse situations and economies, Sen. Moore has developed the strength and capacity to ensure that her constituents are fairly represented in an increasingly challenging economy.

Sen. Moore is the mother of three children and grandmother of nine. She attended the University of Bridgeport and remains a Bridgeport resident.