Mayor Joe Ganim and Congressman Jim Himes were joined by other local officials and developers regarding demolition progress at Marina Village, a $200 million South End revitalization project led by Stamford-based JHM Group.

From Jordan Grice, CT Post:
While there is still work left to do, residents of Marina Village will no longer have to pass a trove of blighted properties that have plagued their neighborhood for years.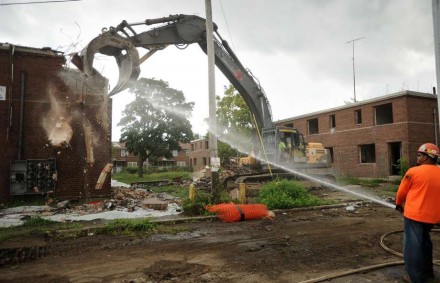 Though developers and the housing authority missed their July deadline, the next round of demolition of decrepit buildings in the public housing complex has begun, making way for long-awaited progress on the next phases of redevelopment of Marina Village into the new Windward Commons apartments.

"It's so important that everyone here understands and realizes that this is what we've been living around and this is what we've been living amongst for so many months and so many years–and now it's coming to (fruition)," said City Councilwoman Denese Taylor-Moye, who represents and lives in the public housing complex.
Full story here.