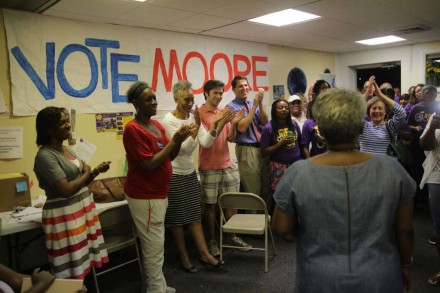 State Senator Marilyn Moore on Tuesday thrashed her Democratic primary opponent Tom McCarthy running up large pluralities in Bridgeport and performing strong in suburban Trumbull and Monroe, according to unofficial returns. State Senator Ed Gomes bested school board chairman Dennis Bradley and State Rep. Charlie Stallworth defeated school board member Maria Pereira in a close contest, based on unofficial returns.
Moore, the freshman legislator, amassed major wins across the Bridgeport piece of 22nd District that covers the north and western portions of the city, all of Trumbull and a section of Monroe.
Angry high-taxed Black Rockers came out in force against party-endorsed McCarthy, the president of the City Council that also has budget authority, following their revaluation-influenced July 1 tax bills. Moore won the Black Rock precinct 336 to 91. But she also defeated McCarthy handily in his own North End neighborhood including 302 to 217 on the machines at Blackham. The heavily African American precinct Wilbur Cross was also a force for Moore where she won 386 to 100. In Park City Magnet it was 286 to 51 for Moore. She also won big on the West Side.
Overall it was not a good night for Democratic Town Chair Mario Testa, a McCarthy ally. Both Moore and Gomes assert that Testa and Mayor Joe Ganim turned their backs on key incumbency relationships in Hartford. Moore and Gomes were not endorsed by the party. They won.
But arguably the biggest surprise of the evening was Moore's performance in suburban towns where the State Senate's only African American woman ran essentially even with McCarthy who was backed by Trumbull's Democratic party establishment including Town Treasurer Anthony Musto whom Moore defeated in a primary two years ago. Moore, whose name recognition increased representing the district for nearly two years, campaigned in the suburbs and was aided by two key unions assisting her ground operation, the Connecticut Carpenters and the teacher-based Connecticut Education Association. Moore also received assistance from Connecticut's Working Families Party.
Trumbull Dems strategic backing of McCarthy misfired when they criticized Moore for working too closely with Republican First Selectman Tim Herbst who's public enemy number one for the Dem establishment, a point Herbst made on his Facebook page. Herbst contends Trumbull Democrats are run by several former disgruntled Republicans who've "hijacked the party."
"Elaine Hammers is my candidate for the State Senate," Herbst writes. "And the Trumbull Democratic Town Committee under the leadership of Tom Kelly needs serious and intense group therapy!"
For her part, Moore asserts it's her job to work with chief elected officials to help her constituents, be it Democrat or Republican. Moore will face Republican Elaine Hammers in November.
The unofficial results in Bridgeport, Moore 2161, McCarthy 1,019. In Trumbull it was McCarthy 469 to Moore's 468. In Monroe 60 to 58 Moore.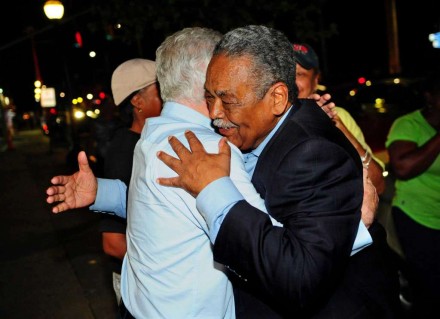 The Gomes-Bradley battle was closer with both candidates carrying their share of precincts in the city. Bradley performed well on the East Side but Gomes countered that with a strong showing in the Upper East Side including Hooker School. He also performed well in the Stratford piece of the district. Gomes also was aided by a coalition of unions and Connecticut's Working Families whose banner he carries having won a special election in 2015 running on that line. In Bridgeport overall it was Gomes 1701 to 1571. In Stratford, Gomes 237, Bradley 113.
Gomes had to file a lawsuit to get his name on the ballot after a paperwork snafu caused state elections officials to reject his candidacy. Gomes won "without the help of the mayor, without the help of the party, all the way from the courtroom to this election."
Stallworth, an appointee of Ganim, received a scare from Pereira, the outspoken party outsider. He defeated her, according to unofficial returns, 929 to 845 benefiting from his base of support in Wilbur Cross, 362 to 154. At Hooker School, Pereira's support base, it was Pereira 319 to Stallworth's 184.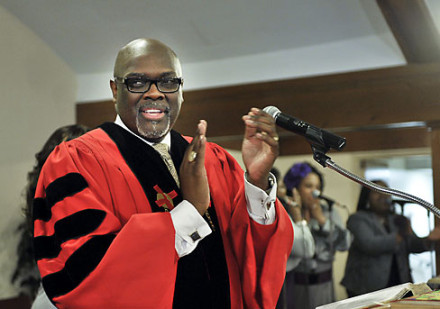 Stallworth, in the final week of the campaign was aided by a heavy infusion of independent expenditures from charter school supporters as well as a flyer from a political action committee based in the East End calling into question Pereira's temperament. As a result, Stallworth outspent Pereira about two to one.
State House incumbent Andre Baker defeated multi-mayoral candidate Charlie Coviello in the fourth legislative race of the evening, 643 to 289.
Primary results by community can be found here on the Connecticut Secretary of the State's website.