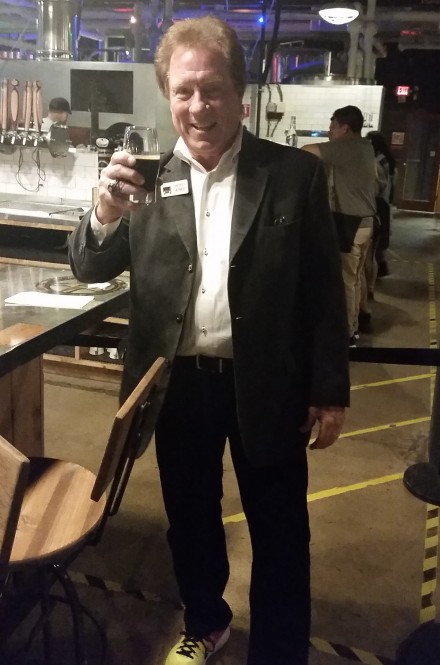 Mickey Herbert, president of the Bridgeport Regional Business Council, enjoys an entrepreneurial spirit that he's put into words and action, be it health care or sports entertainment. In his latest Mickey's Mail eblast to his business community constituency, he muses about the potential of Amazon HQ2 and MGM's proposal to build a waterfront gaming enterprise, as well as other developments in the city.

As I sit at my pc on a much-needed rainy Sunday morning, I want to share my personal thoughts about the possibility of our region gaining a second Amazon headquarters (HQ2) or a major MGM casino development (MGM Bridgeport). I do this in part because many of you have asked me about HQ2 and MGM Bridgeport, and I have thought a lot about them.

Most of you know that even though I have only been the BRBC CEO about one year now, I have sat on the BRBC board since the late '80s in different capacities (three health plans, the Bluefish, and my own tiny consulting firm). I remember vividly the impassioned debate our board had over 20 years ago about casinos coming to Bridgeport, and I am acutely aware of many grandiose projects our board discussed over the DECADES that never came to fruition.

Full disclosure: I voted in 1995 in support of Bridgeport gaining two casinos, in an 18-17 affirmative vote that really split our board in two. I remember my predecessor, Paul Timpanelli, telling me he had Steve Wynn on speed dial on his cell phone. And, of course, the ballpark and arena at Harbor Yard were constructed on land Donald Trump sold to the city for $1 (and property tax forgiveness) when the state legislature would not authorize any casinos for Bridgeport, even the tribal casinos that were originally approved in eastern Connecticut.

So, fast forward to today and much has changed. There is far more residential property, either completed and occupied or under construction, in downtown Bridgeport. Bridgeport Landing Development has brought us Bass Pro Shops, some retail outlets, a dockmaster building with a restaurant and boardwalk under construction, and we're very close to opening a new comedy club and beer hall right next to McLevy Green. And we even have the prospect for the renovation of the Majestic and Poli theaters in "downtown north" with the three accompanying office towers. The south and west ends of the city now have a vibrant eco-technology park, and PSEG has a massive oil-to-gas energy conversion project underway at its plant. There's lots more, happening too, but suffice it to say that Bridgeport is a city on the move.

However, what I would like to see most of all is a major shot in the arm that would give us all the feeling that we are over the hump, that there is once again a feeling of "Bridgeport Envy" that existed in Hartford in the late '90s after Housatonic Community College relocated to downtown, the Connecticut police barracks took over the Sears Auto tire site, and both the ballpark and the arena opened or began construction. That Bridgeport would become a destination center for tourists from all over the heavily populated northeast. Our waterfront could realize its enormous potential and the huge tracts of valuable land that exist at Lake Success (Bridgeport and Stratford) and the Army Engine Plant (Stratford) could attract first-class tenants. I am older than most of you reading this, and I'd love nothing more than to see our region really take off IN MY LIFETIME. I've been here 40 years, and not to be too biblical, but it really is time that we stop wandering in the wilderness eating quail and manna!

I support our region's HQ2 application with Mayors Joe Ganim and Toni Harp working in concert with stakeholders all over eastern Fairfield and all New Haven County to produce a high-quality proposal to Amazon. BRBC's EVP, Karen DelVecchio and BEDCO's CEO, Ed Lavernoich along with team of people from Bridgeport and New Haven are working together to make our application the best proposal possible. To me, the "win" here is that we are collaborating with key entities in both counties, working together to attract the next big company that might come here, even if Amazon declines.

As for MGM Bridgeport, I think I know all the arguments for and against casino gaming, but let me say this: we have a Fortune 300 company prepared to make an enormous investment right here in both Bridgeport and New Haven, on an already-permitted, shovel-ready site on our waterfront. MGM's CEO, Jim Murren, was born and raised right here, attended college here in Connecticut, and still has family residing in Bridgeport. When he says that his two highest priority future development projects are Bridgeport AND TOKYO, you better believe that MGM Bridgeport would give our region the very shot in the arm I'm talking about.

I played a small role in getting MGM and RCI Marine together, and I am very proud of that. And, MGM is NOT planning a development like the Atlantic City developments of decades ago. We are talking about way more than a big box casino here. We're talking about jobs, tax revenue, restaurants, more boardwalk development, and true community involvement and support for our entire region.

That's my two cents. Disagree with me if you like. But before you do, think of this quote from Robert F. Kennedy: "Some men see things as they are, and ask why. I dream of things that never were, and ask why not."

Why not the biggest and best for Bridgeport?