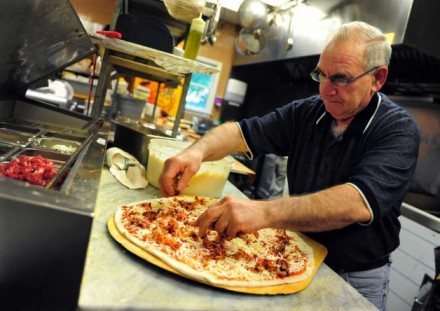 If you're a state political operative strutting into the Madison Avenue restaurant of Democratic Town Chairman Mario Testa, or even his pizzeria near the Brooklawn area a spit across the Fairfield line, remember two key things: 1. he generally takes a siesta around lunchtime; 2. don't come calling unless you have delegates to trade. That's how it works, this time of year. Mario's in a deal-making mood. You think he kneads dough at his pizzeria? He needs delegates for Mayor Joe Ganim at the state party convention in May, roughly 300 of them.

At the May 18-19 endorsement for state constitutional offices including governor, Ganim needs 15 percent of the 1927 delegates to secure a spot on the August primary ballot for governor. Without that he must engage in a labor-intensive petition signature campaign to make the ballot. There is no clear-cut leader for the Democratic gubernatorial endorsement. As a result, it lends Testa more maneuvering to cut deals with state operatives to land the 15 percent.
Let's say you're a candidate for attorney general or state treasurer seeking Testa's support. Mario's gonna say in Italian benvenuto (welcome) and then the next words out of his mouth, or soon after, let's make a deal. In the first place he'll not meet with you unless you have something to trade. You want Bridgeport's support? What delegates will I receive in return for Joe Ganim?
Bridgeport will bring 93 delegates to the convention. Only New Haven, with 100, has more. The math is "derived from the average of two factors: the number of registered Democrats in a town and the votes cast for the Democratic candidate in the most recent presidential election," according to the rules. Delegate allocation by town here.
Mario's in the process of noodling the Bridgeport delegates he will present to the Democratic Town Committee for approval sometime between March​ ​27–​April​ ​3, as specified by the delegate selection calendar. He will expect an oath of loyalty to Bridgeport (translation: Ganim).
He'll need to figure out a way to land Ganim a few hundred more to secure a ballot spot. All of this is a doable work in progress because the race is wide open with so many candidates across the board. If Governor Dan Malloy had sought reelection, or in lieu of that another high-profile pol such as Lieutenant Governor Nancy Wyman, Ganim would be locked out (he probably wouldn't be a candidate either way).
This is a screwy gubernatorial cycle, both for Democrats and Republicans. Dozens of candidates have lined up for the state's constitutional offices: governor, lieutenant governor, attorney general, treasurer, comptroller, secretary of the state. Only two Democratic incumbents Comptroller Kevin Lembo and Secretary of the State Denise Merrill are seeking reelection. That leaves a lot of room for maneuvering.
Example, you're Stamford State Rep. William Tong (he's already visited the town chairman) in a multi attorney general field seeking Bridgeport's delegate support at the convention. You're more likely to leverage, coming from a larger city, delegates to cut a deal with Mario. But Mario will not commit 90 of his delegates in exchange for your 10. He'll want a larger commitment bloc. He's shopping for a deal.
So this is what's going on in the ballot-spot sweepstakes. You have something to trade? Mario will entertain you. Let's make a deal.
If not, stop in, say hello, the food and drink is tasty at an affordable price. Then Mario will shrug his shoulders: what do you want from me?