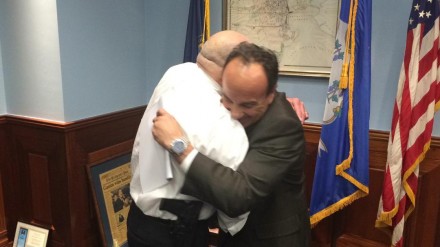 Mayor Joe Ganim on Tuesday announced the city's in planning stages to launch a national search for chief of police, a position occupied on technically an acting basis by his friend A.J. Perez who assumed the role more than two years ago following the resignation of Joe Gaudett who took on a city consulting position in lieu of a buyout of his five-year contract.

Generally, the way it works, the mayor launches a national search that is advertised and processed through the Civil Service office, a mayoral-appointed committee selects three finalists presented to the chief executive who makes the appointment. This process was approved by voters in a charter question presented nearly 30 years ago that limits the leaders of police and fire to two, five-year terms. The City Charter spells out a rough timeline for a search generally within 150 days so this process will likely last into late summer.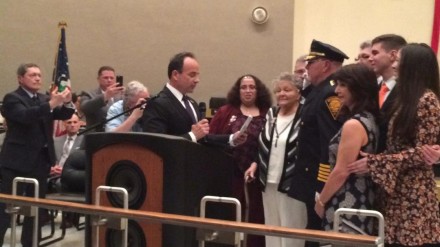 Why did Ganim take so long for a search?
The genial Perez is well-liked within government circles, but some have argued the mayor is doing himself–and residents–a disservice by not ordering a national search that could lead to strong management alternatives. Either way, Ganim could order a search and select Perez, if he makes the final three cut. So what's the downside of just conducting a search?
Perez and members of the police union were all in for Ganim's mayoral comeback in 2015. Union members wanted Gaudett replaced. In one of his last decisions following his primary defeat by Ganim, incumbent Bill Finch appointed Gaudett to a final five-year term, not allowing Ganim his own pick. Ganim had promised on the campaign trail he'd replace Gaudett. So rather than buying out Gaudett's expensive contract, he was transitioned into a consulting position with the city.
Ganim then appointed Perez as acting chief. To Ganim's way of thinking Perez was a loyal supporter and he rewarded him with the police position for two years. But now, Ganim may simply feel he's even with the house.
A national search could also help immunize Ganim from criticism if it's a long, hot violent summer, especially while he's in campaign mode running for governor and then mayor next year if his gubernatorial bid fails.
The city has retained municipal search specialist Randi Frank to head up the search that will include meetings with community stakeholders, elected officials and neighborhood organizations that will have input on the qualities they want in a police chief. Frank has been involved in other municipal searches for the city including the process that led to Gaudett's appointment.
"I'm very happy and glad it's finally happening," Perez said. "It's two years and almost a month. Let's go. Let's do it."