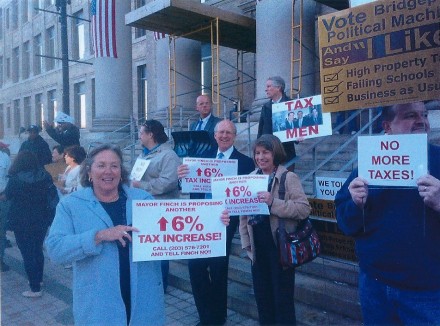 Mike Marella made his return to the City Council Monday night replacing long-time councilman Bob Curwen who resigned from the city's legislative body several weeks ago citing family health issues. Marella was a key figure on the council in the 1990s during the Joe Ganim mayoral years. He was a council spearhead for the establishment of the Bridgeport Bluefish professional baseball team.

Mayor Bill Finch praised the return of Marella with whom he served on the council for 10 years, including his work helping a public-private partnership for the creation of the Bluefish, building of the ballpark at Harbor Yard, as well his long service as the executive director of the Police Activities League.
Finch delivered the oath of office to Marella who was cheered by roughly 30 supporters. "The city has tough times right now but we'll get through it," Marella said from his council seat. "But right now I'm the new kid on the block and I have to catch up with what's going on."
Council members overwhelmingly approved Marella's return. East End Councilman Andre Baker was the lone vote in opposition. City Council President Tom McCarthy appointed Marella co-chair of the Contracts Committee.
A number of OIB readers have questioned Marella's residency on the city's Upper East Side, the district he represents, after moving out of the city several years ago. Marella last month registered to vote in the city. McCarthy, with Marella present, told OIB Marella produced several documents validating his residency on Huntington Turnpike including utility and cable bills.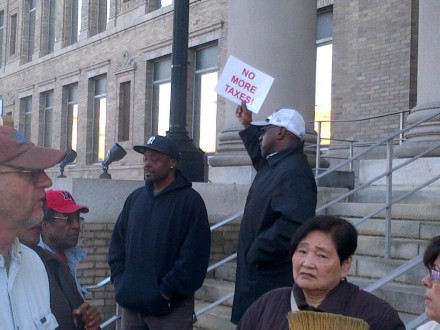 Before the council meeting about 50 people filled the steps of City Hall at a rally organized by the Republican Town Committee protesting the mayor's $520 million budget proposal currently before the City Council. GOP Town Chair Slater and two-time Republican mayoral candidate Rick Torres were joined by political and neighborhood activists, including Democrats and independents, opposing the mayor's spending plan and proposed 2.5 mil tax increase that represents a roughly $400 tax hike for the average city homeowner.
In response to the Republican rally the mayor's Communications Director Elaine Ficarra issued a statement:
"It's a shame that when such progress has been made in the City of Bridgeport during the past five years–restoring credibility and financial stability to City government, and expanding economic development–that the local Republican party leaders would continue to work to latch on to misleading and inaccurate national "trend" stories to divide our residents. The Governor's current budget proposal would mean an $11 million loss in revenue to the City of Bridgeport. Mayor Finch's prudent but sustainable submitted budget has held the line on spending in every possible way, while recognizing the formidable challenges posed by a potential loss of $11 million in revenue. The Mayor has urged city residents, and so should the Republican leaders, to unite in contacting their state legislators to demand they find a better way to cut the state's budget rather than trying to balance it on the backs of city residents."