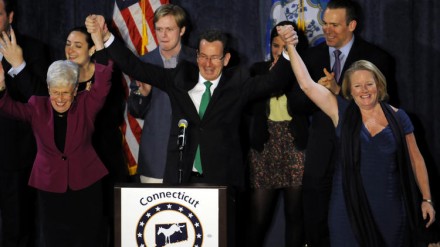 State Results here.
Governor Dan Malloy, in another close race with Republican Tom Foley has announced, "We are going to win this thing." In Bridgeport, according to unofficial returns provided by the Registrar's Office, Malloy received 16,863 votes to Foley's 4623. The results include absentee ballots and WFP line for Malloy and Independent Party line for Foley. The citywide turnout was about 37 percent, up by a few points from four years ago.

From Hartford Courant:
Gov. Dan Malloy appeared poised to declare victory in his rematch with Republican challenger Tom Foley Wednesday morning.

Foley has yet to formally concede the race, but he said he likely has lost the race. He made his comments Wednesday morning while talking with radio hosts Chaz and AJ on a morning radio talk show on the classic rock station, 99.1 WPLR. Foley told Chaz and AJ that he knew around midnight that the race was slipping away. He said he plans to call the apparent victor, Democratic incumbent Dannel P. Malloy to congratulate him "as soon as we know for sure that we lost."

Malloy campaign adviser Mark Bergman said as of 9 a.m., Foley had not called. Malloy plans a news conference this afternoon.
Full story here.
From the CT Mirror:
Gov. Dannel P. Malloy declared victory early today in his bitter rematch with Republican Tom Foley, not waiting for his challenger to concede what Democrats described as an unexpectedly comfortable victory.

Malloy led Foley by nearly 12,000 votes without including results from the Democratic bastions of New Haven and Hartford, according to his campaign spokesman, Mark Bergman.

The governor took the stage at the Society Room in downtown Hartford with his wife, Cathy, his three sons, and Lt. Gov. Nancy Wyman at 12:30 a.m. and quickly declared victory, telling the exhausted but jubilant crowd, "I truly believe this is your victory."
Full story here.
CT Post coverage here.