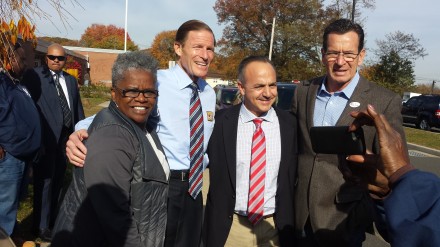 Democratic State Senate candidate Marilyn Moore, who knocked off incumbent Anthony Musto in an August primary, has defeated Republican challenger Rick Costantini in Connecticut's split city-suburban 22nd State Senate District, according to unofficial returns.

"It's indescribable how you feel after you've worked so hard, so many people coming together," she said. "It was a team effort."
Moore ran up huge pluralities in Bridgeport precincts countering Costantini's suburban advantage, according to unofficial returns. Moore's Bridgeport vote tally was 7345 including absentee ballots. Costantini received 2501 in the city. Costantini won a suburban plurality of roughly 3,000 votes. The district includes Trumbull and a small portion of Monroe. Overall Moore won by roughly 1900 votes.
For instance, Moore defeated Costantini in the heavily Democratic Wilbur Cross precinct 1025 to 78 votes. Moore also performed stronger in the suburbs than many political operatives had expected, making personalized phone calls to unaffiliated voters.
State Senate precinct results, unofficial:
Black Rock: Moore 923, Costantini 515;
Central: Moore 948, Costantini 361;
Blackham: Moore, 1539, Costantini 583;
Aquaculture: Moore 425, Costantini 94;
Winthrop: Moore 1150, Costantini 566;
Wilbur Cross: Moore 1025, Costantini 78;
Park City Magnet: Moore 774, Costantini 200.
Middlebrook (Trumbull): Moore 1474, Costantini 2153.
Statement from Mayor Bill Finch:
"It's a big night for our city. We're thrilled to add three new members to our state delegation. Marilyn Moore, Chris Rosario, and Andre Baker are clearly ready to fight–in Hartford–for making Bridgeport a place where more companies want to invest and hire people, and where more families want to live, work, and raise their families.

"Marilyn Moore won a tough primary, and a tough general election. She's also one of the strongest advocates for social justice issues that I've ever seen. She's clearly going to be a champion for Bridgeporters up in our state capitol.

"Chris Rosario shows us what makes our city strong. He's been fighting for hardworking folks in our city since he was a kid. Now, he's the father of three kids who attend Bridgeport public schools, proudly works for his city as a public servant, and is ready to take on any challenges that are put in front of him. He'll be an advocate for us up in the state capitol.

"Andre Baker has been a stalwart for Bridgeport as a City Councilman and as a member of our school board. He's a well respected business owner, job creator, and elected official in our community. He's fought for hardworking Bridgeporters, and I'm more than confident that he'll continue to do exactly that in Hartford.

"These new members are adding to what is already a great state delegation team. State Representatives Auden Grogins, Jack Hennessy, Ezekiel Santiago, and Charlie Stallworth are doing an incredible job for our city. And, State Senator Andres Ayala is doing a fantastic job fighting for Bridgeport.

"Working together, we'll continue putting in the work at the state capitol that's necessary to ensure that Bridgeport continues to get better every day."
Governor, unofficial partial results:
Black Rock: Malloy 927, Foley 549;
Central: Malloy 929, Foley 422;
Blackham: Malloy 1566, Foley 634;
Aquaculture: Malloy 432, Foley 106;
Wilbur Cross: Malloy 1053, Foley 95;
Park City Magnet: Malloy 769, Foley 230.
Awaiting full results.