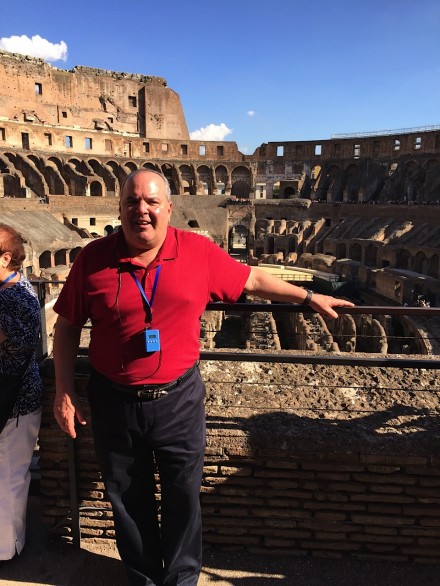 Uninspiring poll numbers, the dread of raising campaign cash and the reelection of Dan Malloy as governor have all contributed to former Mayor John Fabrizi declining a bid for the job he occupied from April of 2003 through November of 2007.

Retired from the Board of Education, Fabs has taken several months to reflect on a possible challenge of Mayor Bill Finch who replaced him in office. Fabs formed an exploratory committee for mayor last summer raising funds to commission a public poll to test his voter standing and measure it against Finch.
The poll reflected Fabs' likability among voters but when measured against Finch in a head-to-head match-up he was not encouraged by the result in light of the labor-intensive process involved to raise money to compete against a well-financed incumbent.
"I loved being mayor," he says, "but I'm also in a good place in my life." He's enjoying early retirement including a recent trip to Italy where he toured Rome and Florence among other areas of the country.
He added the Finch administration has a number of initiatives teed up including the Steel Point redevelopment of the East Side that would make it more daunting and the reelection of a governor who was boosted by the city on Tuesday.
Fabs says he's not prepared to endorse anyone else for mayor at this time.
With the gubernatorial election now over, political operatives will segue to the municipal cycle next year when Finch seeks a third four-year term.
Those considering a challenge of Finch include school board member Howard Gardner, retired police officer David Daniels, and former mayoral candidates Bob Keeley, Charlie Coviello and John Gomes, all of whom lack experience raising a six-figure warchest required to wage a competitive contest.
Someone who has that experience raising money is 2011 Finch primary opponent Mary-Jane Foster who has not announced her intentions. Some of her supporters say she's not acting like a candidate.
Former Mayor Joe Ganim schmoozed political operatives and voters in front of polling precincts on Tuesday. Will he run? Ganim, a calculating political analyst, is showing his face to determine his viability for a comeback.
On the Republican side, Black Rock councilman Rick Torres is considering a third run for the mayoralty.