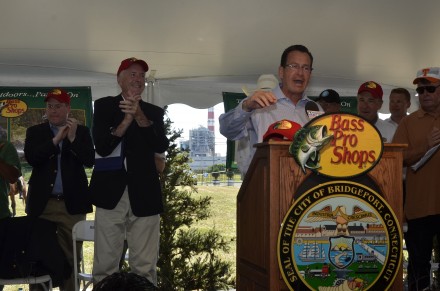 Calling Mayor Bill Finch "A person we can trust," Governor Dan Malloy Tuesday afternoon endorsed him for a third, four-year term at the Black Horse Garage where the governor also announced a state grant to expand the workshop of the luxury car restorer in the East End, a pivotal battle ground area where former mayor Joe Ganim has political strength.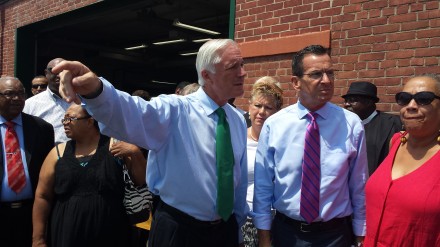 Malloy was not bashful in his endorsement of Finch, drawing a contrast with the troubled past of Ganim seeking a comeback following his 2003 conviction on federal corruptions charges. Finch was flanked by dozens of political supporters who chanted, "Four more years" inside the Black Horse workshop on Union Avenue.
Finch opened the remarks before introducing Malloy. "He's a person who helped us with Steel Point and jobs at Steel Point," said Finch referring to the redevelopment of the East Side that will be home to anchoring tenant Bass Pro Shops now under construction. Malloy spoke of the need to revitalize the East Side and East End neighborhoods, highlighting Steel Point and a second train station for the city on Barnum Avenue, blocks away, that he called a city "game changer."
"The rail station has to be built," Malloy said to cheers. "Working with Bill Finch is a pleasure … He's a person we can trust. I am here to endorse a partnership … Why change direction with things moving in the right direction."
Malloy and Finch have renewed political alliances after Finch endorsed Ned Lamont for governor over Malloy in 2010. The relationship was scratchy for a few years. Malloy did not make an endorsement for mayor in the 2011 primary season with his friend Mary-Jane Foster in the race. Foster is again a candidate for mayor.
When Malloy was mayor of Stamford and Ganim chief executive of Bridgeport they were not the best of buds as the two major Connecticut cities experienced political rivalries. Ganim was a rising statewide star in the Democratic Party. When Ganim was forced from office, Malloy filled the void of a city mayor aspiring to the governor's office. He ran for governor in 2006 and closed the deal with his statewide win in 2010, followed by reelection last year in a second close contest with Republican Tom Foley.
Key to helping repair the relationship between Finch and Malloy was former Democratic Town Chair John Stafstrom, an early Malloy supporter for governor. Staftrom, the city's bond counsel in his employ with Bridgeport-based law firm Pullman and Comley, served as a relationship bridge between Finch and the governor's office. Stafstrom attended the governor's endorsement of the mayor.
In the past two years Finch mayoral operatives reached out as well with the governor's office, leveraging the Malloy-Finch policy-wonk persona as a common denominator for an improved relationship. Last year Malloy supported a two-year delay implementing state-mandated revaluation of taxable property that avoided a major tax hit for the city in Malloy's election cycle and Finch's this year.
Throw Ganim into the mix for a possible comeback and it furthered Malloy's endorsement for Finch, albeit not until Finch secured the endorsement, following a hotly contested vote, of the Democratic Town Committee last week.
Malloy cautioned Finch supporters not to take anything for granted signaling Ganim as a real threat.
"If you see someone who voted for me, tell them to vote for Bill Finch," Malloy emphasized.
As one political operative noted at the event, "If Joe wasn't in the race, this election would be a real sleeper."